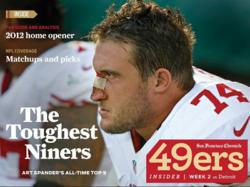 San Francisco, CA (PRWEB) September 14, 2012
49ers INSIDER digital magazine continues its game-by-game coverage of the San Francisco 49ers season with pre-game and post-game issues devoted to the Sunday, Sept. 16 game against the Detroit Lions.
The pre-game issue, available on Friday, Sept. 14, will feature a cover story by Pro Football Hall of Fame columnist Art Spander who profiles his nine toughest 49er players of all-time. Other features include The Gambler, which returns after correctly picking all three winners last week, with three more great picks, plus three games to avoid.
Other not-to-be-missed stories include The Contrarian, who checks out the social media buzz on the 49ers opening-week win against the Green Bay Packers and argues the other side by advising everyone to "calm down." Plus, the weekly Fanning the Flames section of fan-centric content offers up a guide to attending the home opener, with transportation info, tailgating tips and a special adult beverage recipe in honor of the handshake that went awry in last year's 49ers/Lions contest.
Other content features of 49ers INSIDER digital magazine include:

Expert contributors from the world of sports, who cover the 49ers from a local, regional and national perspective
Profiles and Q&A features from players and coaches
Fan photos from tailgating parties and from the game
Cheerleader photo galleries
The digital magazine is an extension of The Chronicle's award-winning, in-depth sports coverage that readers expect from the Bay Area's leading news source. 49ers INSIDER stories, features, photos and videos are optimized for the iPad to give users a richer, more visually dynamic presentation of this new and exciting 49ers and NFL coverage not found in the newspaper or on SFGate.com.
The digital magazine publishes twice a week during the season, including the playoffs, should the 49ers advance. Each issue contains content designed to be a one-stop destination for fans as they follow the 49ers throughout the season.
The digital magazine is free for Chronicle home-delivery subscribers. Annual subscriptions are available at the introductory price of $4.99 for the entire season. For a limited time, the Green Bay pre-game issue is available to readers for free, so that they can see for themselves the features available in 49ers INSIDER digital magazine.
More information and downloading instructions are available at http://www.sfgate.com/digitalmags.
About the San Francisco Chronicle/SFGate.com
The six-time Pulitzer Prize-winning San Francisco Chronicle is the Bay Area's leading news and information source and has been connecting the region with its award-winning journalism since its founding in 1865. Combined with its online home, SFGate.com, the San Francisco Chronicle reaches 1.7 million Bay Area adults each week.