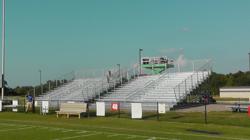 On behalf of the kids, we would like to take the time to thank [ParknPool and Sarah] for giving some students their first Homecoming, and some their last Homecoming experience – one that they will never forget.
Lexington, VA (PRWEB) September 16, 2012
As the leading online distributor of commercial outdoor furnishings and site amenities such as picnic tables, trash receptacles, park benches, bleachers and playgrounds, ParknPool takes pride in hearing all the kind words and testimonials their clients have spoken over the years. However, a high school in White House, Tennessee still got more than they expected when they chose ParknPool for their recent bleacher order.
White House Heritage High School was scheduled to play the first game of the season, which was also their Homecoming game, on Friday September 7, 2012 but the hope of bleachers to accommodate their fans and students seemed like an impossible dream. With a delay in ordering, city bid issues and a machine not running properly, ParknPool was given an impossible task of getting bleachers manufactured and fully installed in time for the school's first home game of the season. "For some [this Homecoming] would be their first, and for others it would be their last and every high school student deserves to have their Homecoming at home," explained Sarah Dudley, ParknPool Account Manager, "I was going to do everything in my power to make this happen!"
As of 6:00 P.M. Thursday September 6, there was no sign of bleachers, and the hope of White House Heritage High School playing their Homecoming game at home was diminishing. However, together with the commitment of their manufacturing partner to send experts to expedite the construction of the bleachers, ParknPool was able to have both trucks of bleachers in White House, Tennessee by 8:00 P.M, allowing only a short amount of time to perform the necessary prep work. "Our community came together in a time of need to ensure our students could play their Homecoming at HOME," stated Mrs. Holmes, Principal of White House Heritage High School. When doubters worried that it was too late, ParknPool's designated installation crew and the White House community simply went straight to work, getting the bleachers fully installed by 3:30 P.M. on September 7, game day. "The night was beautiful and all were so thankful to be playing in the White House Heritage J.C. ESCUE Sports Complex," continued Mrs. Holmes.
"[This] could not have been done with any other company – most would have not done it or cared what happened in the small town of White House, TN.," expressed John, White House Heritage High School Funds Committee Member, "On behalf of the kids, we would like to take the time to thank [ParknPool and Sarah] for giving some students their first Homecoming, and some their last Homecoming experience – one that they will never forget. Without the miracle and teamwork of [ParknPool] to bring us bleachers, 2012 Homecoming at White House Heritage would not have happened. ParknPool believes that a kid's experience and memories do matter. And miracles do happen!"
About ParknPool Corporation:
ParknPool is Veteran Owned SBE/WBE Company and is the leading online supplier of commercial outdoor furniture and site amenities such as picnic tables, trash receptacles, park benches, bleachers and playgrounds. ParknPool was begun in 1998 in Orlando, FL and moved their headquarters to Lexington, VA in 2005. http://www.parknpool.com