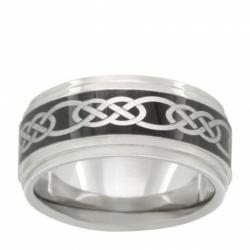 These new wedding bands offer the popular look of Cobalt metal while also being hypoallergenic and scratch resistant
(PRWEB) September 14, 2012
The large Diamond Nexus collection of affordable engagement rings for women along with the growing men's jewelry line have now expanded to include a new line of durable and sophisticated men's wedding bands.
"These new wedding bands offer the popular look of Cobalt metal while also being hypoallergenic and scratch resistant. They come in varying designs to compliment many different men's tastes and styles as well," commented Aries Vassel, Customer Service Representative.
"For customers interested in more modern designs, I love the Monte Cristo and Joshua which have beautiful gold brushed detailing that also balance warmer skin tones," said Vassel.
Diamond Nexus has also created classic band designs, like the Viggo, Marc and Atticus that have strong, masculine looks, perfect for a man that wants the look of Cobalt metal, without any flair that would take away from the ring.
For some customers, added details are sought after, and Diamond Nexus has listened to their customers, offering a few bands that have a more unique spin on a traditional wedding band.
"One look that has been extremely popular is the Heaney band which offers a striking Celtic knot work motif laid over a black background in the center of the band for a bold look. Many customers who want to have a tribute to their Irish heritage or just to have a band that stands out. This ring has that great effect and I personally love the black background as well. It gives this classic ring design a contemporary feel," explained Jennifer London, Social Media Coordinator.
To view the rings in the new Cobalt Collection from Diamond Nexus, please visit this link: http://www.diamondnexus.com/mens-jewelry-cobalt-bands
Diamond Nexus was founded in 2004 with the purpose of bringing to the public the powerful benefits of the lab-created diamond simulant revolution. They have over 250,000 customers worldwide that have awarded them an "A+" rating with the BBB, and are the ninth largest online jewelry retailer in America according to the 2011 IR500 list. For two years in a row brides from The Knot have selected them as their Best of Jeweler. Diamond Nexus currently has two retail locations: their flagship store at Woodfield Mall in suburban Chicago, Illinois, and a second store at Mayfair Mall in Milwaukee, Wisconsin. In 2009 the company was named the official jeweler and crown maker of the Miss Universe Organization as part of NBC/Universal's "Green is Universal" environmental initiative.