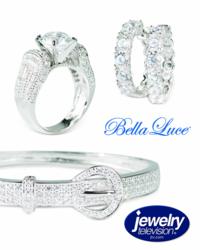 "Through a mix of silver and gold over silver, Bella Luce can take any woman from day to night with this dazzling jewelry."
Knoxville, TN (PRWEB) September 17, 2012
Jewelry Television, the world's authority on gemstones, will celebrate 16 years of its exclusive Bella Luce collection on Sept. 16. This luxurious jewelry collection features the look of fine diamond jewelry and will showcase specialty cuts and debut items during the 12-hour anniversary event.
JTV's proprietary collection, Bella Luce, means 'beautiful light' in Italian and this collection shines radiantly. This exclusive line of fine jewelry was created with the everyday person in mind. It can spice up an outfit at a formal event or it can be dressed down for a lunch in town. Bella Luce showcases designs fashioned in lustrous sterling silver, 18 karat gold over sterling silver and exquisite platinum over sterling silver.
"This special collection gives our customers the necessary options for coordinating their jewelry with every item in their wardrobe," said Natalie Parman, VP of Merchandising "Through a mix of silver and gold over silver, coupled with the look of fine diamonds, Bella Luce can take any woman from day to night with this dazzling jewelry."
Magnificent cuts and debut items highlight the 16th anniversary for Bella Luce. The Dillenium cut is a well-designed, diamond cut created with 100 facets. These angles enable the observer to see more external and internal reflection of light and to distinguish more colors of the spectrum when compared to the standard 58 facet cut.
"It is hard to believe our Bella Luce collection has been selling precious and opulent pieces for 16 years," Parman said. "We recently celebrated 19 years as a company and our success is due in part to our loyal customers who come back again and again because they know they can trust JTV and the jewelry they are buying."
This anniversary event will showcase the Bella Luce collection with rings, necklaces, earrings and bracelets.
Watch JTV or visit http://www.jtv.com to view more of the Bella Luce collection.
About Jewelry Television®
Jewelry Television® (JTV) is the only broadcast shopping network that focuses exclusively on the sale of jewelry and gemstones. The privately-held company was founded in 1993 and broadcasts high definition programming 24 hours a day, seven days a week, to more than 80 million unique households in the U.S. Jewelry Television® was recently ranked the 14th largest retailer of jewelry in the U.S. by National Jeweler. JTV.com is the fifth largest jewelry destination on the internet according to Internet Retailer's Top 500 Guide for 2010. For more information, visit JTV.com.
###