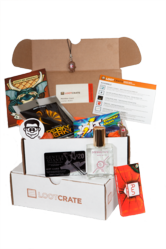 The first monthly subscription box for the geek and gaming lifestyle, essentially Think Geek meets Birchbox.
Los Angeles, CA (PRWEB) September 17, 2012
Loot Crate delivers a monthly box of epic gear and swag, hand-picked for geeks and gamers, for under $20, $19.37 ($13.37 + $6 S&H). Loot Crate, which launched at the end of July, is the first monthly subscription box for the geek and gaming lifestyle, essentially Think Geek meets Birchbox.
Loot Crate, which formed during LA Startup Weekend, partners with both established brands and new emerging companies to deliver our members, known as Looters, with new products, gear, art, apparel, snacks, comics and other items deemed "geek" worthy. For brands, Loot Crate offers a new way to engage and introduce the community to products beyond traditional retail, trade shows, and sampling programs.
The company just passed 500 paying subscribers in less than 45 days and is on pace to triple subscribers in September from it's first box in August. The Loot Crate community is highly engaged and due to an overwhelming amount of positive feedback, Loot Crate is now one of the highest rated boxes on http://www.subscriptionboxes.com, based on positive reviews from it's inaugural box in August.
The company's inaugural August box, named "Assemble," included custom wood founding membership cards, $20 Gift Card for Gentle Giant busts and figurines, Avengers themed cologne from Marvel and JADS International, Turkey Perky Jerky, Jolt Gum, Domo Mini Figs, PWN Gum, and a limited edition art print. There has been a positive response from these initial brands to their inclusion in the box, due to increase in awareness, engagement and conversion around their products.
The company is working to expand it's list of partners and will be adding new product categories and subscription offerings in the coming months. The company had it's first industry event presence at Stan Lee's Comikaze Sept. 15th and 16th at the Los Angeles Convention Center.
Loot Crate was founded by Chris Davis and Matthew Arevalo, with a strong supporting team. Chris Davis previously was director of business development for ViaClix, and most recently, founded Gamer Food, an energy snack company that has done promotions with gaming industry leaders like Fatal1ty, Riot Games, and Kiip. The product is sold at Think Geek, Frys Electronics, Xoxide, and Amazon.com. Matthew Arevalo is a digital strategy consultant and entrepreneur, who in addition to leading his own firm, Relentus, has co-founded and advised local startups in additional to developing community driven campaigns for large global brands like AT&T, Nintendo, EA and T-Mobile. For more information, visit http://www.lootcrate.com and join the Loot Crate community on Facebook, http://www.facebook.com/lootcrate and Twitter, http://twitter.com/lootcrate.
For media inquiries, please contact Matthew Arevalo via phone 323.365.3435 or e- mail weloveyou(at)lootcrate(dot)com