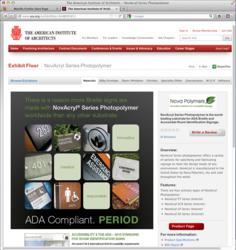 Architects will find more options, contemporary solutions and valuable resources for ADA-compliant signage with NovAcryl® photopolymer at the AIA's new online Exhibitor Catalog."
Fairfield, NJ (PRWEB) September 18, 2012
Architects now have easy access to information on NovAcryl®, the world's leading substrate for ADA Braille and accessible room identification signage, at the AIA website's new Exhibitor Catalog, a one-stop resource for the most popular aspects of the upcoming AIA convention, including product information, services and AIA CES-approved courses.
NovAcryl® broadly expands the selection of colors, patterns, textures and finishes now available for ADA-compliant signage while addressing the need for more environmentally-conscious creative sign solutions for architectural design. NovAcryl® ECRTM for example, is a unique sign material processed in plain tap water and bonds to 3-form's EcoResin panels, which are non-toxic and have up to 40% recycled content. 3form® is recognized worldwide for innovative materials offered to architects and designers.
Technical information on NovAcryl® can also be accessed along with resources including BIM objects, LEED information and accessibility codes, with a series of white papers that simplify understanding of important codes relating to accessible room identification signage and sign compliance in the United States, Canada, Australia, and the United Kingdom.
"Architects will find more options, contemporary solutions and valuable resources for ADA-compliant signage with NovAcryl® photopolymer at the AIA's new online Exhibitor Catalog," said Dave Miller, Business Director for Nova Polymers, who serves on the Board of Directors for the International Sign Association and is Chairperson for the ISA Sustainability Committee. "Best of all, NovAcryl® is environmentally friendly without sacrificing quality or selection," he added.
Nova Polymers is the largest manufacturer and distributor of photopolymer sign products in the United States, Canada, Europe, the Middle East and Australia. For more information on Nova Polymers, NovAcryl® and contemporary solutions for high-resolution raised graphics and ADA-compliant signage, visit http://www.NovaPolymers.com or call toll-free 888.484.6682.
About Nova Polymers
Nova Polymers is a global manufacturer and distributor of photopolymer sign products.
Nova Polymers developed the world's first clear photopolymer sign material (NovAcryl®) that continues to have a profound effect on the creative potential of the architectural, sign design, and fabrication industries. The company continues to work with the architectural signage and design community to expand its high quality and progressive product line in ways that add creativity and flexibility, while complying with international accessibility standards.