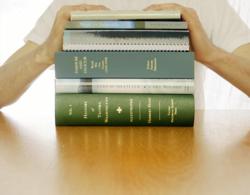 Centralia, WA (PRWEB) September 21, 2012
Beyond the forests of southwest Washington state, off Interstate 5, is a manufacturer of dreams, Gorham Printing. Imagine celebrating Mr. Cleveland's one hundredth birthday where his sons supplied each guest with an incredible memoir of his life. Years later his younger sister, Nita, has printed hundreds of copies of her cookbook filled with delicious recipes from her restaurant.
Real dreams from the heart of people across the country who have toiled over writing the great American novel, the poet with a collection of sonnets and verse, or the professional with a self-help or how-to book. Rachel Hubbard of Mercer Press has created a dynamo list of titles in her educational resource business.
For over thirty years Gorham Printing, a short-run book printer, has been churning out soft cover and hard cover books, of all genres, for authors and small publishers.
How does a short-run book printer fulfill dreams? At Gorham Printing the minimum order is twenty-five books. This allows for authors to create something from their heart, stories, memoirs and photos, to give to friends and family that will last a lifetime, such as Beatrice Penniall of California who has created a series of beautiful books filled with her sketches, pressed flowers and delightful stories.
Small only in size, this dedicated company produces giant size professional quality and customer service for their clients. Kurt Gorham, owner, has created an environment of knowledge and expertise in Centralia, Washington where thousands of book are designed and printed every year. Dr. William Higgins compiled his award-winning poetry into a priceless volume for his daughters and friends.
Newer technology makes it affordable to print short runs of a book through digital process whether in black and white or color. This is not a print-on-demand company or POD, however, but a short-run book printer. From as few as thirty-two pages of a children's picture book up to tomes of nine hundred pages, Gorham Printing takes expert care of your story.
Visit Gorham Printing's website and find a wealth of information for those who like to do things themselves to a gallery of examples from the design staff. Watch their movie about ordering a combination package of printed books and eBook files giving dreams the best of both worlds.
The staff at Gorham Printing is waiting to help your dream come true and bring your book into a reality.