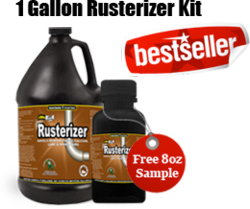 It carrying the same name Rusterizer, the product prevents anyone from getting in contact or be exposed with harsh chemical ingredients.
Tampa, FL (PRWEB) September 26, 2012
Rust is one of the most common home-maintenance problems. It is also one of the most damaging as it could render any metal home item useless. Hence, once it's sighted, a prompt rust treatment is needed. And to help make that process truly effective, Rusterizer made available to the public its non-toxic rust remover. As a treat to its future clients, it also decided to offer it with the shipping fee waived.
Grab a Sample of Rusterizer's Effective, Safe and Inexpensive Rust Remover
Basically, rusting is a chemical reaction between iron and oxygen in the presence of moisture. Corrosion is the other term use to refer to it. And generally, it can damage items in two ways, either by deforming them or staining them.
When corrosion happens, it causes the surface of a metal piece to flake and breakdown. That is when the deformation occurs, which, in return, could leave any metal-made house tool or item unfit for use. In the case of structures, the deformation could lead to their weakening as rust can separate the adjoining parts that keep them standing.
In addition to that, when rusting occurs, it also gives an item or surface a porous color that could transfer easily to other pieces, especially to those things made of fabric. The brownish stain that corrosion leaves, though it doesn't weaken the item, degrades its aesthetic value. Basically, it makes the piece look unsightly and uncared for.
Because of those negative effects of corrosion, it is imperative to learn how to prevent its occurrence. But given that moisture and metals items are almost everywhere, rusting is simply too difficult to prevent. And so, according to Rusterizer.com, in addition to taking preventive steps, one must also prepare a rust removal spray for an immediate rust treatment in case corrosion will still happen.
Discover All the Benefits Rusterizer Has to Offer
Prompt rust removal will save any home metal piece from worse corrosion damages, said the site. Additionally, it will spare any rust sufferer from more expenses for the replacement of badly rust-damaged items. However, it said that for the process to work, one must pick up the right the rust removal product.
And as online green company, Rusterizer.com asserted that its non-toxic rust remover is the right solution for any homeowner and contractor to purchase. That's because it is safe and inexpensive without compromising its effectiveness, a representative of the company stated.
It carrying the same name Rusterizer, the product prevents anyone from getting in contact or be exposed with harsh chemical ingredients. And that basically helps rust sufferers from health risks as allergies and breathing difficulties. Further, that also prevents additional medical expenses.
Nonetheless, the company knows that others are still in doubt of the product. So to prove it is indeed the right solution for a reduced mold removal cost that will benefit homeowners and even contractors, it is giving out samples of the solution. And to anybody who will get Rusterizer within this month, the company will also waive the shipping charge for the non-toxic product.
Reduce Your Rust Removal Cost. Order the Non-Toxic Rusterizer Today