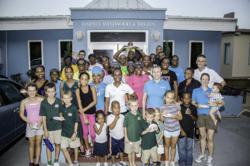 Road Town, Tortola (PRWEB UK) 16 September 2012
This past Friday 7th September 2012, more than two dozen Harneys' staff gathered with their families together for a late afternoon "Power Action Walk", dubbed "PAW." The event, held in conjunction with Caribbean Wellness Day, saw Harneys staff members and their families walk, jog and run up Russell Hill Road, down the Paul Wattley By-Pass and along Main Street.
In holding the event, Harneys was answering the call issued by the Ministry of Health and Social Development for businesses to get involved in this year's Caribbean Wellness Day activities by holding a "company wellness day".
Human Resource Manager Jeanette Black coordinated the event. "I am very happy that we have made this conscious decision to support a healthy community and even more elated that so many of us at Harneys took the time out to walk," she said. Black further noted that this is the first of many activities Harneys has planned in its ongoing effort to encourage health and wellness within the workplace.
The concept of wellness encourages individuals to eat a well balanced diet, exercise regularly, and take care of their emotional and mental health.
Harneys continues to support active participation in community events and especially health based initiatives such as this that draw more attention to chronic health issues as well as educate the community on the importance of healthy lifestyle practices. Harneys is very proud to be a part of this initiative.
# # #
Harneys is a leading international offshore law firm providing BVI, Cayman, Cyprus and Anguilla legal services from 6 offices around the world. Our associated corporate services business, Harneys Services, provides BVI and Cayman corporate and fiduciary services. For more information visit http://www.harneys.com.