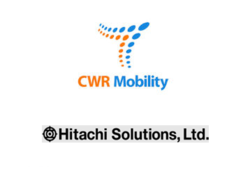 Our partnership with Hitachi Solutions America reflects the strategic role Mobility is playing for companies that want to get and stay closer to their customers. It brings together our shared commitment to provide innovative solutions.
Redmond, Washington and Irvine, California (PRWEB) September 25, 2012
CWR Mobility, the leading provider of mobility solutions for Microsoft Dynamics® CRM, recently named to the 2012 President's Club for Microsoft Dynamics, and Hitachi Solutions America, announced today that they have formed a strategic partnership in which Hitachi Solutions America will offer advanced mobile CRM solutions to its customer based on award winning software from CWR Mobility. In addition to joining the CWR Mobility Partner Program as a Certified Partner, Hitachi Solutions America will invest in building the next generation of solutions based on the CWR Mobility platform.
"We are very pleased to establish this important partnership with CWR Mobility, enabling Hitachi Solutions Group the ability to offer our clients a full service CRM experience around the globe. CWR Mobility and Hitachi Solutions America are two of the most trusted brands within the Microsoft Dynamics CRM space. Our combined offerings will continue to accelerate our growth with our go-to-market industry solutions," said Gary Peterson, Senior Vice President, Hitachi Solutions America, Business Solution Division.
CWR Mobility develops and markets CWR Mobile CRM, the best-in-class mobility solution for Microsoft Dynamics CRM that enables field sales, service and marketing professionals to be more effective and efficient. Earlier this month CWR Mobility launched CWR Mobile CRM 2011 for Android tablets. This latest release supports users' expanding choices in tablet devices by adding native application support for Android tablets. CWR Mobile CRM now provides native application support for iPad®, iPhone®, Android™ smartphones and tablets, Blackberry®, and Windows® Phone mobile devices.
"CWR Mobility's partnership with Hitachi Solutions America reflects the strategic role Mobility is playing for companies that want to get and stay closer to their customers," said Mark H. Corley, CEO of CWR Mobility, the global 2011 and 2010 Microsoft Partner of the Year for Mobility. "This important partnership brings together our shared commitment to provide innovative solutions and best-in-class products to our clientele and is great news for customers."
This news follows CWR Mobility's announcement in June that it continues to see tremendous momentum throughout its business and in its role as Mobile CRM industry leader. The company is seeing comprehensive growth of its business across functional areas, from market awareness to customer adoption, numerous award recognitions, its partnership with Microsoft, its global company footprint, and the significant growth of the company's global partner base.
About CWR Mobility
Our mission at CWR Mobility is to help organizations gain The Power of Close™ -- the power to get closer to customers and stay there, increase customer satisfaction and loyalty while reducing the costs of customer interaction, and create a more agile and effective customer-facing organization. By offering the most advanced, multi-platform mobile CRM solutions -- based on the Microsoft Dynamics CRM platform – CWR Mobility continues to set the mobility standard for the entire CRM industry. CWR Mobility and its partners uniquely empower customers to drive business results through rapidly deployed mobile applications.
About the CWR Mobility Partner Program
The Mobile CRM market is expanding rapidly, creating substantial opportunity for system integrators, value added resellers and consultants who help their customers gain The Power of Close. The CWR Mobility Partner Program provides these companies with the critical elements essential to successfully enter the mobile CRM market and deliver market-leading solutions to their customers based on best-in-class software products from CWR Mobility. For more information, or to inquire about partnership opportunities, visit http://www.cwrmobility.com/partners/become-a-mobile-crm-partner.
About Hitachi Solutions
Hitachi Solutions is a recognized leader in delivering proven business and IT strategies and solutions to companies across many industries. With a balanced view of strategy, people, process and technology, we work with companies to understand their unique business needs, and to develop and implement practical business strategies and technology solutions. From business strategy development through application deployment and maintenance, our consultants are committed to helping clients quickly realize measurable business value and achieve sustainable ROI. We offer a client-focused, collaborative approach and transfer knowledge throughout each engagement. Hitachi Solutions was recognized as the 2011 CRM partner of the year. Outside of Japan, the company conducts its business through three key subsidiaries, Hitachi Solutions America, Ltd., Hitachi Solutions Europe, Ltd. and Hitachi Solutions (China) Co., Ltd. For more information, call 949.242.1300 or visit http://www.hitachisolutions-us.com
About Hitachi, Ltd.
Hitachi, Ltd. (TSE: 6501), headquartered in Tokyo, Japan, is a leading global electronics company with approximately 320,000 employees worldwide. Fiscal 2011 (ended March 31, 2012) consolidated revenues totaled 9,665 billion yen ($117.8 billion). Hitachi is focusing more than ever on the Social Innovation Business, which includes information and telecommunication systems, power systems, industrial, transportation and urban development systems, as well as the sophisticated materials and key devices that support them. For more information on Hitachi, please visit the company's website at http://www.hitachi.com.
The Power of Close is a registered trademark of CWR Mobility BV. Microsoft, Microsoft Dynamics and Windows are either registered trademarks or trademarks of the Microsoft group of companies in the United States and/or other countries. iPhone and iPad are trademarks of Apple Inc., registered in the U.S. and other countries. The Trademark BlackBerry is owned by Research In Motion Limited and is registered in the United States and may be pending or registered in other countries. CWR Mobility BV is not endorsed, sponsored, affiliated with or otherwise authorized by Research In Motion Limited. Android is a trademark of Google Inc. Use of this trademark is subject to Google Permissions. Other trademarks mentioned in this press release may be held by their respective owners and/or their suppliers.