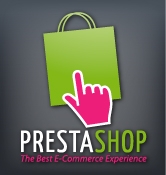 Bluehost is extremely happy to be able to provide a simple installation of PrestaShop to our users.
Miami, FL (PRWEB) September 25, 2012
PrestaShop and Bluehost have proudly joined forces to offer merchants, agencies, developers and general e-commerce enthusiasts the best online shopping-cart solution on the planet.
PrestaShop currently powers more than 125,000 active online stores in more than 150 countries, and with Bluehost as its newest partner, those interested can now take advantage of a simple-script, one-click installation of PrestaShop.
"Bluehost is extremely happy to be able to provide a simple installation of PrestaShop to our users," said James Grierson, VP of Business Development at Bluehost. "Together we have developed a streamlined solution for small businesses, allowing them to setup their own website and create an ecommerce store in minutes."
Bluehost has been providing the world's best web-hosting solutions since 2003. And their commitment to outstanding service at a price everyone can afford has made them one of the fastest, most reliable hosting providers in the world.
"Together, PrestaShop and Bluehost are revolutionizing the world of e-commerce by making it accessible to the masses. Even the technologically challenged can install and host an online store with amazing ease at an unbelievably low cost," said Matt Serralta, Chief Operating Officer at PrestaShop.
Taking full advantage of the world's best e-commerce software has never been easier, and with the new PrestaShop and Bluehost partnership, users are provided a superior e-commerce experience at a great low price.
About PrestaShop:
PrestaShop is the world's leading Open-source e-commerce solution powering more than 125,000 stores worldwide. Backed by the industry's leading partners, PrestaShop ensures easy online selling by providing more than 300 advanced features that can all be customized to fit the needs of every online business. The growing Success of PrestaShop's software is thanks to countless code contributions, suggestions and encouragement from its ever-expanding 350,000 member Community. PrestaShop is the winner of the 2010 and 2011 Best Open-source Business Application awards, and its passion for pursuing excellence is fueled by business owners who desire a free, powerful and easy e-commerce solution.
About Bluehost:
Bluehost is a leading provider of shared hosting services and is known for its industry-leading reliability and U.S.-based customer support. Bluehost produces exclusive technology designed specifically for shared hosting and reseller hosting. The company also owns and operates its own data center, domain registrar and nationwide fiber network. For more information, visit the Bluehost website or call toll free (888) 401-HOST.