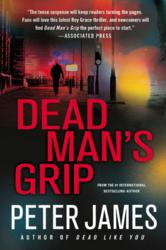 One of the most gripping Roy Grace thrillers yet
(PRWEB) September 17, 2012
The highly anticipated paperback of Dead Man's Grip, the seventh novel featuring Detective Superintendent Roy Grace by Peter James, will be released September 18 in the United States from Minotaur Books. The popular Roy Grace novels have sold over thirteen million copies worldwide and have been translated into thirty-five languages. Notably, Dead Man's Grip is the fifth consecutive novel in the series to achieve the #1 UK Sunday Times bestselling slot. For additional information, please visit http://www.PeterJames.com.
One of the most gripping Roy Grace thrillers yet, Dead Man's Grip tells the story of a fateful accident that kills a teenage student from a family with connections to organized crime that pledges to revenge his death. Marilyn Stasio of the New York Times said of it: "The methodical investigation is always authentically detailed…James' inspired villains are worthy of leading roles in mad-dog-killer thrillers."
Peter James is one of the world's best selling crime and thriller novelists. The mystery writer has developed a close working relationship with the Sussex, UK police over many years, spending an average of one day a week with them. His writing reveals a unique insight into the reality of modern day police work and forensic science. He has also carried out extensive research with police in Moscow, Munich, Paris, Melbourne, Sweden, New York and Romania, and regularly attends international police conferences to ensure he is at the cutting edge of investigative police work. His eighth Roy Grace novel, Not Dead Yet, will be available in hardcover from Minotaur Books November 27 of this year.