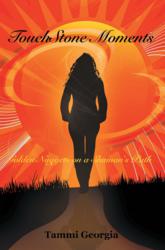 Clancy, Montana (PRWEB) September 17, 2012
It only takes one powerful moment to completely change a mindset, and wellness specialist Tammi Georgia calls these Touchstone Moments. In fact, she says people can have many TouchStone Moments that will radically change their lives and offer insights, or what she calls "golden nuggets."
Georgia's "TouchStone Moments: Golden Nuggets on a Shaman's Path" is a guidebook of self-discovery through exploring the "TouchStone Moments" of your life. These Touchstone Moments offer "golden nugget wisdom" that have the potential to launch people into the depths of their souls to create a healthy, joy-filled life.
Throughout the book, Georgia reveals her own TouchStone Moments as she journeys from PTA mom to Shaman. She shares her wild and wonderful experiences from around the world to bring ancient wisdom to modern times. Her book offers tools for you to embrace your own TouchStone Moments with grace and ease.
As a wellness specialist who is deeply experienced in holistic therapies, she works one-on-one in her private practices, and teaches workshops and classes around the globe. Georgia's expertise within the book sets her apart.
Georgia sets up the book with multiple layers by first sharing her personal TouchStone Moments. Each chapter provides her personal story and transitions the reader to identify their own Touchstone Moments through "golden nugget wisdom." Each chapter also provides the readers with daily affirmations, guided meditations and room for journaling. These are the tools that guide the readers through their powerful process and move them into empowerment.
"TouchStone Moments: Golden Nuggets on a Shaman's Path"
By Tammi Georgia
122 pages
ISBN: 978-1-4525-4329-1 (sc)
Retail price: $11.98
About the author
Tammi Georgia is the owner of TouchStone Wellness Solutions, LLC. She is a wellness specialist with a private practice in holistic therapies. Georgia creates wellness using a magical blend of shamanism, energy medicine, body therapy and meditation all wrapped in a medicine bundle called wellness. She teaches Empowerment Playshops, Authentic Leadership Trainings and leads Spiritual Retreats that rock the soul. Visit http://www.touchstonemoments.com for more information.