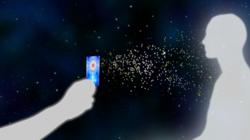 LifeParticles: The Building Blocks of the Universe' is the second short on the channel.
Sedona, Arizona (PRWEB) September 18, 2012
LifeParticleTV.com published two short films this month examining cutting-edge metaphysical concepts. Produced in Korean, the first is called 'The Story of the Soul of Mago Aquamarine Crystal.' This international video narrated in storybook fashion is a delightful telling of the history of the Soul of Mago aquamarine crystal. From Ilchi Lee's profound meditation experience on the Bell Rock vortex that his book 'The Call of Sedona' is based upon, to how he came to acquire this extraordinary crystal and to broadcast Soul of Mago's message to humanity. The short is characterized by animated book illustrations with English subtitles.
'LifeParticles: The Building Blocks of the Universe' is the second short on the channel. It was designed to be a clear and thoughtful explanation of LifeParticles, the most elementary particles, and how they can be used to open a world of health, happiness, and possibilities for one's life. Supporting discussions include wave-particle duality and the Double Slit Experiment, as well as an introduction to the LifeParticle Card meditation.
LifeParticle TV provides enriching live broadcasting and video on demand with health and well-being topics such as simple guided meditation, mindful living tips, news and updates anyone can use anytime, anywhere.
The site is designed to help individuals and groups transform their lives and reach their goals through the power of meditation. The shows on this site can completely change how a person meditates and the results they get from it. Focusing on various aspects of meditation, LifeParticle TV is for beginners and experienced meditators alike.