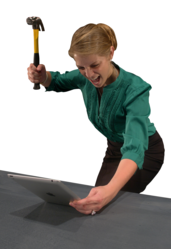 We just love our devices; they're the coolest of vices.
New York, NY (PRWEB) September 18, 2012
Theater For The New City, executive director Crystal Field, will present Digital Dilemmas, a timely new musical comedy about our obsession with digital devices, October 4 – 21, at the Theater For The New City, 155 First Avenue (at 10th Street). The production features book & lyrics by Tom Attea, music by Arthur Abrams, direction by Mark Marcante, and choreography by Angela Harriell.
Digital Dilemmas shines the spotlight on a modern American family totally addicted to computers, iPads, iPhones, Androids and gaming consoles, just when they receive a visit from their eloquent and witty grandmother, who insists her smartphone is the dumbest thing she ever owned and prefers to remain in the analog age. As the confrontation heightens, she dares them to a challenge that any touchscreen age family might never recover from – going without their beloved devices for one full day.Let the withdrawal pains begin!
The musical brings laughter and insight to our obsession with digital devices and our struggle to tear ourselves away from them long enough to preserve our personal space, thoughts and sanity. It also explores romance in the digital age - with the story of a young man so addicted to online dating that he has totally lost interest in any of the women he knows personally, including the woman who's perfect for him.
The cast of Digital Dilemmas includes Gail Rodgers, David "Zen" Mansley, Troy Cochenour, Heidi Kloster, Drew Pulver, Jacob Storms, Jane Jourdan, Drew Torkelson, Kathleen Atkins. The Chorus features DeAunna Blackwell, Natalie Perez Benitoa, John Buckley, Bob Homeyer and Phillip Ramsey.
Design Team includes, Lytza Colon as Prop Designer, Alex Santullo as Sound Designer, Susan Hemsley as Costume Designer, Alex Bartienieff as Lighting Designer
Tom Attea (book, lyrics) has written the book and lyrics for eight musicals and one play that have been produced in the Off-Off-Broadway theater. He has received a TNC/Jerome Foundation emerging playwright grant and is an active member of The Dramatists Guild. He supports his literary work as a freelance copywriter who has written award-winning advertising for Dr Pepper, Grey Poupon, and Jell-O, as well as numerous campaigns for media companies, including "In this city, you need a Voice" for the Village Voice, "There's never been a greater need for understanding" for Time magazine, "Illuminate your world" for The New York Sun, and the advertising that introduced Lifetime Television with "There's nothing like a woman's Lifetime."
Arthur Abrams (composer) has been pianist for the Martha Graham Dance Company, Merce Cunningham, the Joffrey Ballet, and for various venues, including The Waldorf Astoria. His awards include a DAAD music fellowship to Mannheim, Germany, a scholarship to the Orff Institute at the Mozarteum in Salzburg, Austria and a Meet the Composer grant for the score of "The Golden Bear." His theatrical scores include "Unreachable Eden" with book by Barbra Kahn, "The Golden Bear" and "Sketching Utopia," both with book and lyrics by Laurel Hessing, directed by Crystal Field; "Master and Margarita" from the novel by Bulgakov, adapted by Jean Claude van Itallie and directed by David Willinger; and "The Open Gate," based on the novel, "The Manor" by Isaac Bashevis Singer, adapted and directed by David Willinger.
Director Mark Marcante hails from Allentown, PA, and is a graduate of Kutztown University. He has studied Commedia Del Arte with Alessandro Bressanello and Michael Conenna from the T.A.G. Theatre of Venice, Italy. Mr. Marcante has worked and toured with The People's Theater Company, Theater East and The Guthsville Playhouse. He has been the Production Manager of Theater for the New City since 1984. Prior to that, Mr. Marcante was the theatrical and technical consultant for the Arts Connection. This is his eighth production with Tom Attea and Arthur Abrams. Other shows Mr. Marcante has directed include Rizzante Returns from the War, Benny's Barber Shop, Promises Best Kept,British Music Hall, Strangely Wonderful and One Director Against His Cast, written by Crystal Field which premiered in Italy.
Choreographer Angela Harriell has worked with the Attea, Abrams, and Marcante on two previous musicals. She is the director and choreographer of the popular Nutcracker: Rated R, as well as the founder and choreographer of the cabaret dance troupe, The Love Show. A graduate of Fredonia University, where she received The Graduate Scholarship for ballet, she has worked with Elisa Monte and David Brown dance, Randy James Danceworks, and taught ballet at Binghamton University. Her work has twice been selected to be presented at special galas at the National Arts Club. Angela also taught dance at Lincoln Center for Midsummer Night's Swing.
Performances Thursday, Friday and Saturday at 8PM, Sunday at 3PM. Tickets $10. Order online at http://www.theaterforthenewcity.net or by calling 212.254.1109. Also at the box office before performances. Theater For The New City is at 155 First Avenue.
Photo by Peter Welch. Actress Heidi Kloster.