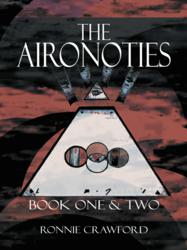 Do not separate science from religion. It all plays a role in the same reality.
Detroit, Michigan (PRWEB) September 17, 2012
The gods have returned, and they are preparing to wage war on the forces of darkness.
In 'The Aironoties', his new science fiction novel, author Ronnie Crawford discusses the possibility of a world where gods and aliens are very real. A unique marriage between science fiction and religion, the book explores the return of the gods and what the world would be like should there be a modern war between the mythological beings that humans have looked to since the dawn of time.
Drawing from his own interest and research in Christianity and science fiction, Crawford wrote the novel with the idea that religious and scientific beliefs should not necessarily separate.
"Science fiction has no limits," says Crawford. "Do not separate science from religion. It all plays a role in the same reality."
The novel centers on character Tommy Walker, who is chosen to be the protector of the human race and do battle with the extraterrestrial forces that wish to conquer and rule humans.
While the novel is science fiction, it carries an important message: the importance of the human soul, as opposed to that of other beings. Crawford urges us to appreciate the human condition and not take it for granted.
Crawford believes that while science may help us to understand the world around us, it can only take us so far.
"We need faith to understand the full truth of the universe and its purpose for us," he says. "We are not meant to know everything. The world and life as we know it is much deeper than we think or will ever know."
'The Aironoties'
By Ronnie Crawford
Paperback, $11.95
ISBN: 978-1-4685-7967-3
Available at http://www.amazon.com.
About the author
From a young age, Ronnie Crawford had a vivid imagination. As he got older, his imagination grew, and he gained an interest in extraterrestrial beings and religion. Born in Detroit, Crawford attended Macomb County Community College to study visual communication. Today, he is the owner of a graphic design studio and spends his free time studying the possibility of extraterrestrial life forms.