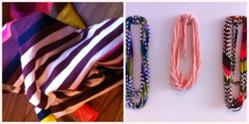 We want to get the word out to Seattle area artists, teachers and crafters about the free crafting supplies available to them at our ZeroLandfill™ Seattle event on October 6, 2012.
Seattle, WA (PRWEB) September 20, 2012
International Interior Design Association (IIDA)-Northern Pacific Chapter is pleased to announce the dates for ZeroLandfill™ Seattle Upcycle event presented by Wilsonart. The event is scheduled for October 6, noon until 7 p.m. at 1931 2nd Avenue, Suite 500 in Seattle, Washington.
ZeroLandfill™ events allow interior designers and architects to donate expired specification samples that can be upcycled. Artists, educators and crafters take the samples and repurpose the materials for classroom and studio materials. Items include glass, tile, wood, carpet, laminate and fabric samples and much more.
IIDA Seattle City Center Director Carli Hoki said, "ZeroLandfill™ helps us to extend our environmental impact to areas beyond design's conventional limits. We focus so much on specifying sustainable products; this event allows us to focus on our own sustainable practices. This is an opportunity to partner with the community as stewards of the earth while supporting an incredibly worthy cause. We want to get the word out to local educators, teachers, artists and crafters to come to our event on October 6, and get free supplies for their art projects," said Hoki.
ZeroLandfill ™ projects have diverted over 800,000 pounds of unwanted samples from landfills nationally since 2006. In the past year, construction industry participants identified and repurposed product and material samples that are traditionally disposed of as waste into art and education supplies. ZeroLandfill's goal is to divert over a million pounds by the end of 2012. Free art supplies are available to those who can give them a second life, thanks to sponsors Allsteel, Architex, Milliken and Crossville represented by United Tile.
About ZeroLandfill™
ZeroLandfill™ is an award winning beneficial reuse program that supports the supply needs of local artists and educators while reducing pressure on local landfill capacity. Since 2006, the ZeroLandfill™ project team has assisted the architectural and interior design community in identifying, diverting from local landfills and re-purposing back into the community over 800,000 pounds of specification samples that hold value for other audiences. BeeDance personnel support the program with training workshops, volunteer services and online marketing. BeeDance, LLC is an online experience where anyone can reclassify waste into a viable asset for the community. Learn more about ZeroLandfill™ at http://www.zerolandfill.net.
###