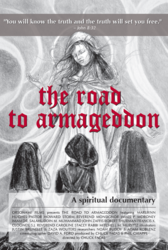 "What you have to understand is that there's a continual warfare that goes on for every soul on this earth." -- Marilynn Hughes
New York, NY (PRWEB) September 18, 2012
Producer Chuck Facas announced today that his Orsonami Films will premiere 'The Road to Armageddon: A Spiritual Documentary' on October 11, 2012.
"To sit down with personalities as varied as Robert Thurman and Marilynn Hughes, to get their take on where our civilization is spiritually, in the eyes of whatever higher power it is you pray to, was a once in a lifetime experience," said Facas. "I expect audiences to be as moved watching this film as I was making it."
'The Road to Armageddon: A Spiritual Documentary' explores humankind's estrangement from the spiritual world and the effect our thoughts, prayers, words and deeds have on our relationship with the Divine. The film is all call to arms, imploring us to change our ways before this estrangement becomes a permanent schism.
In addition to Thurman and Hughes, the film also features Harvard University professor Francis Clooney, demonologist John Zaffis, Reverend Monsignor James Moroney, Imam Salahuddin M. Muhammad and other leading academic and spiritual figures.
To learn more about the film, please visit: http://www.theroadtoarmageddon.com
Orsonami Films is an independent, New York-based production company. Recent releases include 'Absinthe: The Documentary.'
This film has not been rated. Running time: 72 minutes.
###