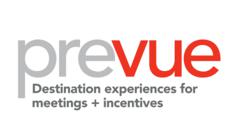 "Their endeavors have made a positive impact on communities around the planet, and along with all of the nominees, should make everyone involved in the meeting and incentive industry excited about the future." -Laurel Herman, Publisher/Editorial Director
Miami, Florida (PRWEB) September 17, 2012
Prevue, one of the leading global meeting and incentive media brands, is pleased to announce the winners of its first annual Visionary Awards for the meeting and incentive industry. The Visionary Awards celebrate the forward thinking initiatives of environmental sustainability, social innovation, community building and corporate social responsibility among destinations and suppliers.
The Visionary Awards featured destination and supplier nominees from around the world chosen by Prevue's editors. Winners were decided by the meeting and incentive planning community and the public at large, with three special "Pillar" awards, based on Return on Investment, Experience & Collaboration, chosen from among all nominees by a judges' panel of prestigious planners and industry executives.
-2012 Pillar Award Winners-

Return on Experience: Business Events Australia
Return on Investment: Big Island of Hawaii
Return on Collaboration: Odyssey Teams
-2012 Public Award Winners-
Destinations

Africa/Asia/Pacific: Business Events Australia, Business Events Sydney, Voyages Indigenous Tourism Australia
Europe: VisitSweden
Latin America/Caribbean: Puerto Rico Convention Bureau
USA/Canada: Big Island of Hawaii
Hotels/Resorts

Individual Hotel: ICEHOTEL Sweden
Large Hotel Chain: Starwood Hotels & Resorts
Small Hotel Chain: Kimpton Hotels
DMCs

Domestic: Impact4Good
International: Rainforest Adventures Costa Rica
"We are very proud to recognize the winners of Prevue's Visionary Awards," says Laurel Herman, Prevue's Publisher and Editorial Director. "Their endeavors have made a positive impact on communities around the planet, and along with all of the nominees, should make everyone involved in the meeting and incentive industry excited about the future."
Prevue's panel of judges for the Visionary Awards Pillar category included some of the most highly regarded planners and executives in the industry. The 2012 judges were: Danielle Adams (Green Meetings Industry Council), Dahlton Bennington (Incentive Research Foundation), Julie Carberry (MotivAction), Lisa Cherry (The Opus Group), Bridget Chisholm (BCC Planning), Ann Craig (Meetings & Incentives), Eldon Gale (Nationwide Meeting and Event Management Group, Financial and Insurance Conference Planners), John Huffman (Meeting Alliance), Virginia Mampre (Meetings and Incentive Travel, Mampre Media International), Katherine Manfredi (Conference Partners, Inc.), John Pino (i-Meet), Jim Ruszala (Maritz Travel Company) and Shawna Suckow (Senior Planners Industry Network).
To read more about the Visionary Awards, each winner and their impact on the meeting and incentive industries, visit: http://www.prevueonline.net/visionaryawards.
About Prevue
Since 2009, Prevue (prevueonline.net) has helped planners imagine and create exceptional meetings and incentive events by spotlighting the nuances and unique character of every destination covered. Prevue's BPA-audited, bi-monthly print magazine is received by 35,000 North American meeting and incentive planners. Prevue's branded interview series, Prevue InFocus, crosses multiple mediums and Prevue's weekly e-newsletter Prevue Extra is enjoyed by 30,000+ meeting, incentive and group travel planners.