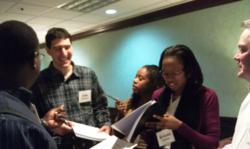 Manhasset, New York (PRWEB) September 25, 2012
ERASE Racism will hold its next two-day, Unraveling Racism Training on Friday and Saturday, Nov. 16 & 17 at the St. Ignatius Retreat House in Manhasset.
For years ERASE Racism has been providing the Unraveling Racism Training to both raise awareness about the history of racism and to provide an understanding of how discriminatory policies and practices continue to maintain racial barriers. "We have seen first-hand how empowering this knowledge can be for activists and for anyone who has ever wondered why racial disparities exist and what they can do about it," says Elaine Gross, president of ERASE Racism.
Through interactive exercises, small group discussions and self-exploration the workshop provides a framework and common language for genuine dialogue about racism. The training also offers ideas and skills that participants can use to address racial inequities in their work and personal life.
Ms. Holly Rauber, Administrative Coordinator of Adult Literacy at Eastern Suffolk BOCES attended the last training session. She said, "The Unraveling Racism Training was one of the most inspiring and motivating workshops I have ever attended in all of my years of attending professional development. The open and honest dialogue that occurred between colleagues to discuss the major discriminatory factors we all face, but most importantly our young students face on a day to day basis; was eye opening and powerful. I feel this training is a necessity for any professional but should be a mandatory part of teacher training."
For more information about the Nov. 16 & 17 Unraveling Racism Training and to register, please visit the events page on http://www.eraseracismny.org.