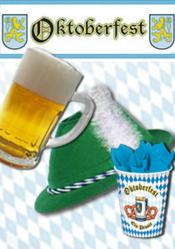 Chicago, IL (PRWEB) September 19, 2012
Oktoberfest occurs every year during the last week of September and first week of October. Individuals from all over the world flock to Munich to get a little taste of the Bavarian culture for this two week-long festival. Welcome the fall season this year with an Oktoberfest Party, with the help of online party supply company, Windy City Novelties!
According to the official Oktoberfest website, the tradition of Oktoberfest began in the 1800s with the royal wedding of Bavarian Prince Ludwig and Princess Therese von Sachsen-Hildburghausen. The celebration was repeated every year following the wedding, adding more activities to the festival each year and prolonging it, eventually making it the largest festival in the world. Although half of the festival occurs in September, it is called "Oktoberfest" because the festival was originally held in mid-October. It was later moved up due to better weather conditions in the month of September.
If one is lucky enough to join in on the actual festivities in Munich this year, they must be dressed in appropriate Oktoberfest attire. This consists of costumes inspired by 19th century German apparel. Windy City Novelties has a large selection of Oktoberfest Costumes to choose from, including a variety of different beer girl costumes and men's Bavarian costumes. Additional costumes include dressing up as a mug of beer of even a full size pretzel! Windy City Novelties also offers an assortment of Oktoberfest hats, beads and more to show spirit for the German festivities.
Even if not in Munich, these costumes and accessories work well at any Oktoberfest theme party or dress up party! Host an Oktoberfest party in your own backyard! Invite friends and family with blue and white checkered Oktoberfest invitations. Welcome guests just like the original Oktoberfest with Oktoberfest banners. Windy City Novelties allows customers to customize their own or choose from designs similar to the banners that hang at the actual festival. Serve German-favorites, such as various types of wursts, pumpernickel, black forest cake, and more on Oktoberfest Paper Goods. Make sure party guests have plenty of German beer to drink in their beer mugs.
Additional ideas for an Oktoberfest themed party include hosting a beer fest or beer Olympics that guests can compete against each other in. Form teams to compete in different beer drinking competitions. Fill up Windy City Novelties' beer mugs to the fullest and have them complete an obstacle course without spilling their beer. The person with the fullest cup at the end of the race wins! Whatever kind of Oktoberfest celebrations entail, Windy City Novelties guarantees a great time with the help of Oktoberfest Party Supplies.
ABOUT WINDY CITY NOVELTIES
Windy City Novelties, a party supply company founded in 1983, is known for their great selection and competitively priced items. They have an A+ rating from the Better Business Bureau and are also a NexTag 5 star Seller. From their website, windycitynovelties.com, they offer fast and friendly shipping along with great customer service. From glow products to party decorations in a variety of themes, and even a vast selection of Halloween costumes at the best prices, Windy City has over 15,000 products and adds more each week.