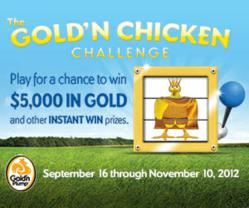 We're excited about the interactive online features of the Gold'n Chicken Challenge promotion.
St. Cloud, MN (PRWEB) September 18, 2012
Gold'n Plump® wants to make your love for chicken as good as gold with its Gold'n Chicken Challenge, a consumer promotion awarding one lucky winner $5,000 in gold. Now through November 10, 2012, consumers will find a promotional code on specially marked packages of Gold'n Plump chicken. Each Gold'n Chicken Challenge code provides one entry into the grand prize drawing and one credit for the instant win play game.
Gold'n Plump will award 30 instant win prizes each week throughout the contest period, including16G Wi-Fi Apple iPads®, 32GB iPod Touches®, Symphony Eco-Friendly 8-pc Cooking Sets, Cuisinart Slow Cookers, and gift cards valued at $50 or $25. The grand prize winner of $5,000 in real gold will be randomly drawn on or around November 19, 2012.
"We're excited about the interactive online features of the Gold'n Chicken Challenge promotion. We wanted to give consumers a fun way to redeem promotional codes while offering a host of family-friendly activities on the promotional website. And everyone is a winner, because all participants will save money with the on-pack coupon," said Rory Bidinger, Gold'n Plump brand advocacy and marketing manager at GNP Company™.
Shoppers are encouraged to select their favorite Gold'n Plump product with the Gold'n Chicken Challenge on-pack sticker. Consumers must register at the Gold'n Chicken Challenge website to play. Once there, they can earn more opportunities to win instantly by participating in "Chickenality" quizzes, answering simple polls, and completing their registration information.
Promotional codes can be submitted at http://www.goldnchickenchallenge.com.
About Gold'n Plump® Brand and GNP Company™
Launched in 1978, the Gold'n Plump® brand is distributed by GNP Company™, based in St. Cloud, Minn. since 1926. Gold'n Plump products can be found in the fresh, frozen, and full service meat cases as well as the deli. It's known for its premium, consistent quality and in addition to All Natural products, it offers convenience products such as seasoned breast fillets and ground chicken. GNP Company is a family-owned provider of premium chicken products to retail, deli and foodservice customers throughout the Midwest and in other parts of the country under both the Gold'n Plump® and Just BARE® brands. The company employs about 1,600 people and partners with nearly 350 family farmers in Minnesota and Wisconsin to produce wholesome, high-quality chicken. For more information on its full line of poultry products, as well as innovative recipes, general cooking and safe handling tips and nutrition information, visit http://www.goldnplump.com and http://www.justbarechicken.com.
# # #