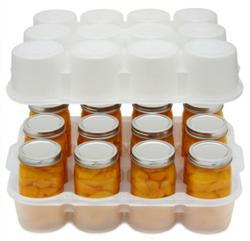 (PRWEB) September 17, 2012
In the last 100 years, two inventions have revolutionized the home canning industry: the steam and water bath – which allows you to use the same canner for both steam and water canning projects - and the JarBOX. The JarBOX is the first protective jar storage container of its kind. It stores up to 12 quart jars securely and easily stacks, saving space. The container's design also makes transportation quick and hassle free. The box is comprised of two "totes" than can be used separately to easily carry the jars, or locked together to create a protective, stackable box. The semi-transparent plastic composition protects the jars from breakage while also allowing you to see the canned goods inside so it's easy to find exactly what you are looking for.
About the JarBOX Mason Jar Storage
The JarBOX is the brainchild of Jeri McFarlane an avid canning enthusiast who – after one too many broken cardboard boxes and years of frustration – decided to create something that would store and protect mason jars effectively. Traditionally canning jars have been stored on pantry shelves taking up valuable space. As canned goods increase, these jars inevitably find their way to more unconventional places, like basements and garages, where the jars are stored in cardboard boxes, wrapped in newspaper and old t-shirts. This ineffective and inefficient storage leaves the jars highly vulnerable to breakage, while also making them incredibly difficult to organize and safely transport. Thankfully, the JarBOX now solves all these issues. It protects your canned goods and allows for quick, safe transport, making canning jar storage much easier and secure than ever before.
The JarBox is the perfect for:

Canning hobbyists
Canning professionals who need to safely transport mason jars to market
The survival, self-sufficiency and preparedness communities
Urban farmers, foodies, and local / natural food enthusiasts
RV food storage
Anyone who struggles with canning storage or transportation!
JarBOX Features

One-of-a-kind, specially-designed plastic container to help you preserve your preserves.
Patent pending, with an anticipate approval date of January 2013.
2 part device that can be used as a one-piece tote, or locked together to make a stackable JarBOX.
Each JarBOX stores 12 quart sized jars, with a pint jar option soon to be released.
Each tote measures 20" x 14 3/4" x 3 3/4".
Dishwasher safe and constructed to last for generations.
Made with recycled content, BPA-free polypropylene.
Why is JarBOX Superior to Standard Cardboard Box Storage?

If a jar leaks, the bottom or side won't fall out of the JarBOX.
Virtually impossible for mice and bugs to nest in with your jars.
You can safely store JarBOXes in root cellars and other damp places.
JarBOXes are very easy to clean.
The JarBOX prevents jars from contacting each other -- even if the JarBOX is shaken side to side or upside down.
JarBOXes securely stack and nest, saving significant storage space.
JarBOXes are intended to be transportable.
About MyPatriotSupply
http://www.MyPatriotSupply.com is North American's premiere online survival supply equipment retailer. Founded on a passion for self-reliance and preparedness, My Patriot Supply offers top quality, innovative home canning products, and they are the first online store to feature the JarBOX.