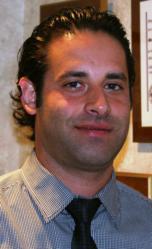 Brooklyn, NY (PRWEB) September 17, 2012
Dr. Navid Baradarian of Marine Park Periodontics & Implantology has become one of a very elite dental group that offer the Laser Assisted New Attachment Procedure. In fact, only one percent of dental professionals has trained on this procedure and can offer it to patients. LANAP is fully cleared by the FDA for treatment of gum disease. The procedure is minimally invasive and does not require sutures, so the recovery time is relatively short.
The LANAP procedure is recommended for most patients with periodontal disease. A consultation with a dental professional is necessary to determine if a person is a good candidate for this procedure. Dr. Baradarian begins the procedure by using a special probe to determine how deep the pockets are between the gums and the teeth, because that is where the bacteria hide. Next, he uses the PerioLase MVP-7 laser to kill the bacteria and remove diseased gum tissue. Because the laser is extremely selective, it does not negatively affect the healthy gum tissue.
Next the gum tissue is compacted against the tooth to help it re-attach and the bone is stimulated by the laser for regenerative purposes. There is no need to use stitches to re-attach the gums, so the healing time is quite short. Many people find they can return to normal activities within a few hours. In addition, there is little pain felt by most patients during or after the procedure.
Dr. Baradarian knows that millions of adults in the United States have periodontal or gum disease, and many of them let it go untreated until drastic measures are required. He is hoping that the new technology of the LANAP laser treatment will help more patients decide to get treatment before teeth are lost or other serious health problems occur. To learn more about periodontal disease and the LANAP treatment, visit http://www.marineparkperio.com.
Marine Park Periodontics and Implantology is a periodontal practice offering patients personalized dental care for Brooklyn, NY. Dr. Navid Baradarian became a Doctor of Dental Surgery at State University of New York at Buffalo School of Dental Medicine; he earned a Certificate with honors in Productivity and Patient Care from New York University Advanced Education in General Dentistry - New York, NY, and received extensive training in implant dentistry; he achieved his Specialty Certificate in Periodontics at University of Medicine and Dentistry of New Jersey. Dr. Baradarian is part of one percent of dental professionals providing the most recent FDA cleared laser procedure for gum disease and periodontal treatment. To learn more about Marine Park Periodontics and Implantology and their dental services visit their website at http://www.marineparkperio.com and call (347) 586-5997.