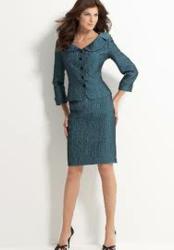 (PRWEB) September 15, 2012
Wholesale suits for women sales strategies have been published by New York wholesale clothing business, CloseoutExplosion.com, a New York based closeout business that exports wholesale suits to Nigeria, Ghana, Kenya, Trinidad, Lebanon, and to many other countries in Africa, the Caribbean, and Latin America. The wholesale business specializes in branded apparel, including wholesale Tahari, Jones New York, Nine West, Kasper, and Calvin Klein suits for women.
"Based on my experience in wholesaling womens suits to wholesale buyers, such as boutique owners from Lagos, Nigeria to clothing store owners from Monterrey, Mexico, I have compiled an extensive database of ideas, tips, strategies, and sources for the wholesale office suit business. I have published a wholesale website to share my advice for resellers that carry wholesale corporate womens suits," said Donny Lowy, who is the CEO of CloseoutExplosion.com
The demand for wholesale suits in African countries such as Nigeria, Botswana, and Kenya, and in Caribbean countries such as the Bahamas, Trinidad and Tobago, and St Lucia, is growing due to their developing economies which are producing a strong corporate sector which require women to wear business suits. Since the Internet, and international travel, have exposed many business and professional women to American and European designers, women in these countries want to wear suits that are carried in major American department stores, such as Anne Klein, Le Suit, and Suit Studio.
Donny Lowy's wholesale for women suit website covers important topics such as:
Brand Versus Style When It Comes To Business Suits
Analysis Of The African Suit Market
How To Ensure That Your Suits Are Appropriate For Your Customers
Internet Resources For Selling Wholesale Womens Suits
How To Set Up A Designer Suit Outlet
Why You Should Buy Wholesale Suits In New York
How To Attract Women To Your Suit Boutique
Show Your Customer How A Designer Suit Can Help Her Succeed
Should You Buy Wholesale Womens Suits Made In China?
How To Use eBay and Facebook To Sell More Wholesale Clothing
"I have published important articles based on my interactions with retailers that purchase overstock suits from my NY closeout business, and based on my research of the womens office suit market. Having interacted with suit boutiques located everywhere from South Africa to Jordan, and with wholesale suit suppliers located in the New York Wholesale District, I have gained practical information which can help my customers have the opportunity to sell more suits in their stores and through online venues such as eBay and Facebook," remarked Donny Lowy.