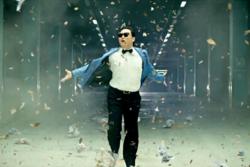 Fashion is based on trending and Gingnam Style has topped the charts and taken over YouTube. Look out for Psy's style to take the streets next.
San Francisco, CA (PRWEB) September 18, 2012
A South Korean rapper name Psy has become an overnight internet sensation with over 170 million YouTube hits with this addictive music video Gangnam Style. Now fashion critic Ashley Child takes a closer look at what it means to dress in Gangnam Style on her post on Cheap-Neckties.com.
A cheeky South Korean rapper named Psy is taking the world by storm with his ridiculously addictive music video called Gangnam Style. Psy's motto is "Dress Classy, Dance Cheesy" and Gangnam Style is exactly that – classy and cheesy. With over 170 million hits, people are eager to learn the enthusiastic dance styles and copy the exaggerated take on luxe style.
The music video is a satirical take on the posh style of a neighborhood in Seoul called Gangnam. Fashion researcher, Ashley Child says, "Rappers typically celebrate over-consumption in their music videos and Gangnam style does just that. But instead of oversized gold chains and platinum grills, we're seeing a South Korean rapper wearing a two toned tuxedo and bow tie. It's a reinvention of gangster opulence." South Koreans are ecstatic with Psy's success and are eager to emulate Gangnam style resulting in a new fashion trend that is as much satirical as it is stylish.
According to Child we should keep a look out for more people pairing tennis shoes with tuxedos and a resurgence of everyday ensembles that incorporate self tied bow ties. "Fashion is based on trending and Gangnam Style has topped the charts and taken over YouTube. Look out for Psy's style to take the streets next." The article lists the five essential components for dressing with Gangnam panache. From colorful tuxedos to round shaped tortoise shell sun glasses, Psy's style sticks to the motto of "Dress Classy, Dance Cheesy."
Up until recently, America has known little about a South Korean neighborhood named Gangnam and a rapper named Park Jae-Sang. But now, Gangnam Style is the number one most liked video ever on YouTube and the most watched K-pop video of all time. That is a notable debut that is sure to spawn trending in every avenue imaginable. South Korea is now, officially on the trending map for the World.
For more information please visit: http://www.cheap-neckties.com/blog/wrapper.php?/archives/558-Gangnam-Style-Explodes-in-the-States.html