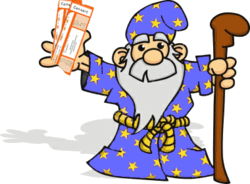 Think of us as your new best friend when you're searching for tickets online
Ardsley, New York (PRWEB) September 19, 2012
Whiztix.com isn't just any event ticket website, it's an entirely new ticket buying experience. This site utilizes a great search engine which compiles data from many existing ticketing websites in order to enable their users to purchase the best tickets, at the best prices, in the shortest amount of time..
The site works very simply. Once a visitor types their desired event into the search bar, it pulls a list of results up. Whether its a Broadway show, a sold out concert, or a sporting event like the Superbowl, you can find it on the site. After the right date is selected, a box pops up on screen once the tickets link is clicked, and that's where the magic begins. The search engine that's used ranks the tickets out of 100, in order to produce the best deals for the viewer. The search can also be modified to look based on price. If search by price is selected, anybody could find the actual cheapest tickets online for any event. A very convenient map of the events venue also pops up in the box which has (for some venues) 3D views of where the seats are located, in order to provide for a more educated purchase.
"Think of us as your new best friend when you're searching for tickets online," said Jeff Taxin the one of the founders of the site. "When you search for tickets on our site, we don't just bring you results from only one company like all the large ticketing sites online, we bring you results from many companies you're probably already familiar with Stubhub, Ebay, Ticket Liquidator, and many more. When we say that we can help you get the best tickets online were not kidding. The best part is, we don't charge our users a dime to search through us first." Finding great tickets online can be tough as is, but this service can really speed up the process of buying tickets due to the wide organized selection.
Benefits to Using Whiztix

An incredibly large selection of tickets due to the results being pulled from multiple ticket marketplaces
The best deals on the web are listed first, and organized by a rank out of 100, or price.
Visitors can save a lot of time searching through this site first
According to whiztix testimonials, people have saved a lot of money by searching here first
Searching through a complete list of all tickets for any event is free