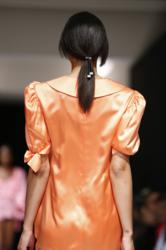 Popsicle colors stirred up thoughts of the shore where we spend the summer
(PRWEB) September 20, 2012
Pulleez ponytail holders were a featured hair accessory at New York Fashion Week Spring 2013 both on the runway and backstage.
"It was great to watch our pieces walk down the runway," said Pulleez creator Diana Wright, "and even more fun to watch the stylists use them to quickly hold back models' hair while applying makeup."
Pulleez were notably featured on every model in Jackie Christie's Pure Beauty Collection. Jackie, a fixture on VH1's NBA Basketball Wives L.A., debuted her design talent while hosting and dressing other wives who walked the runway at the close of the show. The behind-the-scenes drama will be shown over 3 episodes on VH1.
"We loved Jackie's designs and the upbeat atmosphere of the show," said Aviva Devito, a devoted fashion follower. "Popsicle colors stirred up thoughts of the shore where we spend the summer."
Aveda stylists, led by Tim Duenas of Arrojo NYC, created the hair and beauty looks for the show. Models wore loose, low-slung ponytails secured with Pulleez of various styles.
VH1 cast members along with friends and admirers showed up in force to support Jackie's Show. New York beauty Nana Meriwether, Miss Maryland USA 2012 and was runner up for Miss USA, gave Jackie a big hug backstage after the show.
Pulleez were launched at Fashion Week last season and became an instant favorite among models and stylists. There is no need to wrap the elastic multiple times as with traditional elastics. Pulleez are sold at Henri Bendel in New York and at select boutiques nationwide. They are also available at http://www.pulleez.com.