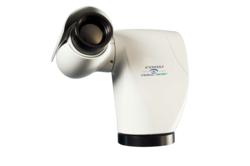 Cohu is pleased to be first to market with a feature packed PTZ Thermal Imaging Camera solution with integrated IP and analog video, and offering the highest environmental operating specification in the industry.
Poway, California (PRWEB) September 18, 2012
Cohu, Inc. (NASDAQ:COHU) today announced a new video surveillance solution from its Cohu Electronics Division.
The 5970SD Series is the latest addition to Cohu's expanding family of Helios video surveillance security systems.
Cohu's 5970SD series combines the advantages of thermal imaging, efficient H.264 compression, a variable speed positioner and advanced environment protection delivering a feature rich thermal camera positioning system. The 5970SD Series is available with uncooled VOx 320p30 or 640p30 LWIR FPA detectors and a wide selection of hard carbon coated lenses. The 5970SD Series is ideal where night vision is required such as industrial security, perimeter monitoring, port, airport, border and coastal monitoring, maritime applications and traffic solutions.
The 5970SD delivers high quality video, even in extreme conditions, such as total darkness, smoke, atmospheric haze or dust, rain, light foliage, and most types of fog. The 5970SD includes a variable hi-speed pan and tilt drive, with 360° continuous pan and ±90° tilt movements. Fast positioning speeds of up to 80°/sec, results in 180° movements in less than 2.5 seconds. Camera control functions are accomplished over IP or the RS422 serial interface. Providing dual output stream capability, the 5970SD can deliver two independently configured H.264 streams, or H.264 with MJPEG or H.264 with analog output. While delivering IP and analog outputs, the 5970SD can integrate with legacy analog based systems today while providing a smooth transition over to IP tomorrow.
The 5970SD is designed to operate in extreme weather with its IP67 and IP66 protection, eliminating the effects of water intrusion, pollutants and corrosives, and also withstands the effects of elevated temperature, electrical and mechanical environments complying with NEMA TS 2 standards.
Administrative features include configuring network settings, user password assignments, setting video streaming properties, configuring thermal imaging properties, defining camera positioning presets/tours and assigning camera ID labels.
The 5970SD Series provides integration with 3rd party Video Management Systems (VMS), adhering to industry interoperability standards for video streaming specifications and ONVIF and NTCIP 1205 configuration and control interfaces.
"We are very excited to broaden our IP video camera line with our new 5970SD Series," said Tom Kampfer, President of Cohu's Electronics Division. "One critical aspect of a security solution is night vision and we are pleased to be first to market with a feature packed PTZ Thermal Imaging Camera solution with integrated IP and analog video. Our 5970SD also has the highest environmental operating specification in the industry (74 degrees Celsius) and is ideal for the most demanding outdoor environments."
The Cohu 5970SD Series is immediately available for order. The product is listed on GSA Schedule GS-03F-4001B.
About Cohu Electronics
Cohu, Inc., Electronics Division is a leading manufacturer of video surveillance camera systems for use in mission-critical, sensitive environments. Integrating the latest video compression and High Definition IP technology into its innovative, rugged video cameras systems, Cohu's line of high quality HD cameras, transmission equipment and management software can be found on the international space station, monitoring the busiest freeways and ports, military bases, U.S. Navy ships, oil refineries, nuclear reactors, mines, high value manufacturing sites, and other critical installations around the globe. For more information on Cohu Electronics' products, please visit http://www.cohu-cameras.com.
For press releases and other information of interest to investors, please visit Cohu's website at http://www.cohu.com. Contacts: Jeffrey D. Jones - Investor Relations (858) 848-8106 or Kirk Leikam – Cohu Electronics, Director of Product Marketing (858) 391-1719