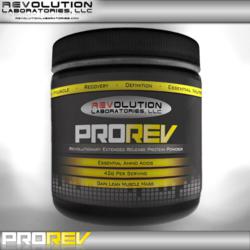 Solana Beach, CA (PRWEB) September 17, 2012
Revolution Laboratories announced the official launch date for new products today. The release date is set for September 20th, and includes a full range of products including Revlabs pre-workout (EndoRev), Muscle Builder (MuscleRev), Multi-Vitamin (DailyRev), Fish Oil Supplement (OmegaRev) and Protein Supplement (ProRev). Also available from Revolution Laboratories is the diet supplement Revolutionary Raspberry Keytone, a diet supplement aimed at burning fat.
This much anticipated product release has been announced by President Terry Asher. A workout enthusiast and avid trainer, Terry explained, "Many supplements are available on the market. However, given my experience and knowledge, none of the available products I have seen and tried provided the complete balanced and all around nutrition required." Motivated by the lack of complete workout supplements available, Terry turned his efforts towards providing a complete and balanced line of products for men and women leading active lifestyles.
Terry Asher's background as a Boxing coach, Jiu Jitsu competitor, personal trainer and ameature body builder led to his enthusiasm and dedication to building his body to peak conditions. This goal requires dedication, training, and optimal nutrition. As numerous people eagerly await the launch of new products, Terry explains that the focus of Revolution Laboratories products are, "Explosive strength, endless endurance and increased focus." In conjunction with the new products coming to market, Terry also released e-books on diet, nutrition, and workout guides, in order to aid people on their path to peak performance.
Rev Labs was founded in 2012 by three avid athletes passionate about the health and fitness industry. The company's slogan has always stayed very simplistic "Made by the fit for the fit" with the mission to revolutionize the science behind peak performance. Our exponential growth is a testament to both the effectiveness of our supplements and the quality of our customer service delivered by real people who understand our customers' needs.