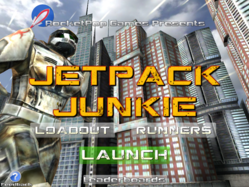 We released the game and instantly thousands began to purchase and enjoy it. - Jason Padgett
Plano, TX (PRWEB) September 21, 2012
RocketPop Games released their highly anticipated new game for iOS- "Jetpack Junkie" and it's blasting off.
Jason Padgett, Co-Founder RocketPop Games LLC, actor in movies like "Spiderman (™)" and TV series "The Shield(™)" says "We are very excited about how the game community has received Jetpack Junkie. We released the game and instantly thousands began to purchase and enjoy it."
Jetpack Junkie is grabbing attention worldwide. As of this release the game is Top 10 in Japan, Top 20 in the United States, Top 20 in Germany and France, top 25 in over 25 countries and climbing fast.
Jason continues "We want the world to know RocketPop Games appreciates the support of our players. We also want to give a huge thank you to the beta testers from Touch Arcade and a million thanks for all the great reviews!"
Jason was asked if there will be any more content for the game, "Yes! We believe in Jetpack Junkie and the team is developing a new update right now. We will let everyone know when it is available".
There you have it, great news for the gaming world and of course RocketPop Games too.
"Join RocketPop Games on Facebook to see screenshots, get development updates, and to communicate with our team. They would love to hear from you."
RocketPop Games LLC is located in Plano, Texas and develops software and games for a variety of mobile, console and PC platforms.