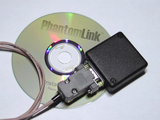 Albuquerque, NM (PRWEB) September 16, 2012
Phantom Data Services, LLC announces the release of new hardware and software upgrades to its open-source PhantomLink project. These upgrades are designed to help do-it-yourself alarm installers more easily monitor their own security systems via web, email, and text messages.
PhantomLink uses a small, easy-to-install device that wirelessly links an existing security system to the internet. If the device senses an alarm event, or if the internet connection is severed, PhantomLink servers immediately alert the user via email and/or text messages. The user can also log into a free alarm monitoring "dashboard" to review timelines of the alarm event. The user can also optionally add real-time webcam video to their dashboard.
The latest hardware upgrades include a USB programming capability which allows users to more easily program their PhantomLink devices using any PC with a USB port. The previous hardware design only supported a "wireless adhoc programming" mode that required a PC with Wi-Fi adhoc networking capability.
The latest software upgrades include the release of PhantomLink Configuration Utility 1.4, which helps users more easily troubleshoot configuration issues when connecting the PhantomLink device to their wireless router.
Full circuit schematics, source code, and instructions for using this self-monitored security system solution can be found on the PhantomLink DIY webpage at http://www.phantomlink.com/diy.aspx. Do-it-yourself alarm installers and electronics hobbyists are encouraged to participate in this project to develop and expand the capabilities of this technology.
###
PhantomLink.com provides do-it-yourself remote security monitoring solutions. PhantomLink.com was developed by and is operated by Phantom Data Services, LLC, a New Mexico limited liability company specializing in advanced website development services.