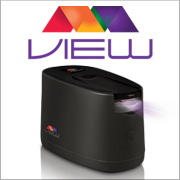 MonaVie--Home of the Winning Score!
Salt Lake City, UT (PRWEB) September 17, 2012
MonaVie, a global leader in premium nutrition products made from the rarest ingredients in the world, previewed its latest product innovation—MonaVie VIEW Antioxidant Scanner—at its recent Acceler8 convention in Anaheim, Calif., September 7–8, 2012. VIEW will be available to qualified MonaVie distributors at the company's "Get a VIEW" conference in Orlando, Fla., February 1–2, 2013.
The Life Score
MonaVie VIEW Antioxidant Scanner ("VIEW") is a device that allows a person to get a view of his or her antioxidant levels, and is designed to further support the company's initiative to prove the value of its products. "With this tool in hand, MonaVie distributors will be able to measure the level of antioxidants within the body," says Jeff Graham, MonaVie executive vice president of global product development. "Then, in conjunction with MonaVie VIEW certified products, distributors can work with clients to enhance their antioxidant levels and prove the value of MonaVie products through this quantitative measuring device."
Two types of scans are associated with VIEW. They are: (1) Quick Scan, which provides a general indication of antioxidant levels in the body and is represented by a color only and (2) Life Score, which is a thorough scan providing an accurate view of antioxidant levels with an associated color and a quantifiable number that is your "Life Score."
Shoring Up the Body's Antioxidant Defenses
Creating a strategy for improving antioxidant levels in the body starts with the MonaVie VIEW Antioxidant Scanner. Once a person's Life Score—the most thorough and accurate antioxidant reading available—is known, steps can be taken to improve that score. Eating a healthy diet with plenty of fruits and vegetables, adopting healthy lifestyle choices, and supplementing nutrition with the high levels of phytonutrients found in MonaVie VIEW certified products will increase a person's score.
"Adding nature's phytonutrient palette to your diet will help improve your Life Score," says Graham. "With the MonaVie VIEW Antioxidant Scanner, you'll have proof positive that the MonaVie VIEW certified products are the best way to get phytonutrients into your antioxidant defense network."
VIEW Certified Products
VIEW certified products are scientifically formulated to deliver a broad spectrum of powerful phytonutrients—including carotenoids and flavonoids—with amazing antioxidant capabilities.

MonaVie Active®—supports joint health
MonaVie (M)mūn®—optimizes immune system
MonaVie Essential®—provides overall antioxidant support
MonaVie MX®—delivers the benefits all three in one juice cocktail
MonaVie RVL® Nutrition Shake Mix—supports healthy weight maintenance with a nutrient-dense formulation
VIEW 60-Day Money Back Guarantee
The MonaVie VIEW Antioxidant Scanner and VIEW certified products bring nutritional peace of mind. Customers can further set their minds at ease with the VIEW 60-Day Money Back Guarantee.
1. Get scanned with the MonaVie VIEW Antioxidant Scanner and establish a baseline Life Score.
2. Sign up on AutoShip for View certified products.
3. Use the products as directed for 60 days.
4. Get another scan and receive a new Life Score. If score doesn't improve, customers will get their money back.
MonaVie VIEW Antioxidant Scanner will be available to qualified distributors at MonaVie's "Get a VIEW" conference in Orlando, Fla., February 1–2, 2013. Distributors, and guests, will have the opportunity to experience VIEW on the "Get a VIEW" city tour, which begins October 1. Click here to view city tour dates and locations.