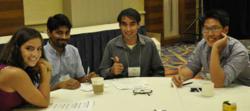 Student Chapters bring the next generation of optics professionals in touch with the opportunities provided by the Society.
Bellingham, Washington (PRWEB) September 16, 2012
SPIE, the international society for optics and photonics, is celebrating a major milestone in the number of Student Chapters and Clubs affiliated with the Society. The acceptance of 13 new Student Chapters by the Society's Board of Directors at last month's SPIE Optics and Photonics symposium boosts the total number to 207, including more than 65% of the 5,700 SPIE student members participating at universities in 40 countries.
New chapters accepted at the August meeting are at colleges, universities, and research institutes in Poland, Canada, Portugal, South Korea, Turkey, the Netherlands, Ukraine, West Africa, the United Kingdom, and the United States.
"I'm excited to see the tremendous growth in both numbers and diversity of the program over the years," said Dirk Fabian, Student Services Lead. "Student Chapters bring the next generation of optics professionals in touch with the opportunities provided by the Society, and this pool of talented students means that both the Society and the optics community as a whole will be healthy for years to come."
The Student Chapter program encourages students of optics and photonics to create and engage in a diverse array of career development opportunities with funding for officer travel to SPIE meetings, student leadership workshops, a Visiting Lecturer Program, and activities that promote participation in the optics and photonics community.
Nearly 200 student chapter members from 31 countries participated in the leadership workshop at Optics and Photonics, hearing from speakers on topics such as entrepreneurship, publishing, and successful communication styles.
Outreach projects are an important component of SPIE Student Chapter and Club activities. Last year, students reached more than 8,000 K-12 students and other community members with programs teaching about optics and photonics, and sharing their enthusiasm for the field. Projects often utilize kits and other materials provided by SPIE, teaching optics principles through activities such as telescope building and laser targeting.
The annual Optics Outreach Olympics at Optics and Photonics provides in-person recognition for participating teams whose project demonstrations are judged by established leaders in the field.
Student members are also invited to pitch their photonics business proposals to a panel of experts at the Photonics Start-up Challenge at SPIE Photonics West. Winners are awarded cash prizes as well as sponsorship to attend Entrepreneurship Academies at the University of California, Davis.
Networking opportunities with experts at SPIE meetings are a significant benefit to student members, who pay reduced conference and professional development registration fees, and may be invited to serve or sit in on conference program and Society committees.
CREOL, the College of Optics and Photonics, University of Central Florida was the first chapter to join the program, which began in 1997.
The new chapters are at:

African Spectral Imaging Network, West Africa
Alcorn State University, USA
Aston University, United Kingdom
Clemson University, USA
Columbia University, USA
Delft University of Technology, Netherlands
Kazan National Research Technical University, Ukraine
Middle Eastern Technical University, Turkey
University of British Columbia, Canada
University of Michigan, USA
University of Porto, Portugal
University of Warsaw, Poland
Yonsei University, Republic of Korea.
About SPIE
SPIE is the international society for optics and photonics, a not-for-profit organization founded in 1955 to advance light-based technologies. The Society serves nearly 225,000 constituents from approximately 150 countries, offering conferences, continuing education, books, journals, and a digital library in support of interdisciplinary information exchange, professional growth, and patent precedent. SPIE provided over $2.7 million in support of education and outreach programs in 2011.