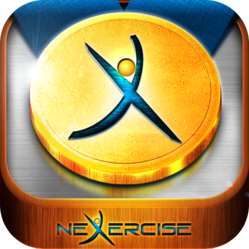 Sitting around too much will kill you!
Washington, DC (PRWEB) September 18, 2012
The Nexercise weight loss app gained new support last week when television's THE DOCTORS prescribed Nexercise to guests on the show. The segment began with a plea from Jessica, a concerned wife, who complained that her husband, Michael, was too sedentary. She was worried about his health and wanted him to do more activities with their children. Michael, however, insisted that he worked very hard and just wanted to relax when he came home.
That's when the team of The Doctors jumped into action.
Dr. Travis Stork started by telling Michael that what he was doing to his health was "life threatening." He then told him that there are apps to address his problem and then recommended Nexercise. Next, Dr. Andrew Ordon got right to the point by stating, "Sitting around too much will kill you!" Dr. Ordon continued by citing a study that found that people who sit around for more than 11 hours per day have a 40% greater chance of dying within the next three years. He then brought it home for the young husband by telling him that lack of activity leads to erectile dysfunction. Ouch!
Now that The Doctors had Michael's attention, Dr. Jim Sears took the message to the next level by telling Michael and Jessica that, "sitting and watching TV for just three hours per day increases your risk of heart disease by 64%." Not to be hypocritical, however, Dr. Sears demonstrated to the audience that he was living up to his own recommendation. He used Nexercise extensively while working with a summer camp and even stated, "I'm winning all these awesome medals," which sparked a round of applause from the audience. Dr. Sears then pepped up even more when he talked about winning the Early Bird and Monday Maniac medals. He wrapped up by telling the audience that he had lost eight pounds after three weeks of physical activity with Nexercise. How's that for following your own advice?
Finally, Dr. Stork brought everything full circle by bringing the discussion back to Michael. "It's not as much about formal exercise as it is getting on your feet," he told the young couple. He then directly challenged Michael when he asked, "If it could be something you enjoy, like going for a walk with your lovely wife [or] using an app like Nexercise to track your movement, is that something you think you can do?" Michael proudly said yes and then proceeded to get competitive with his wife. They started bragging about who could get the most points at which point Dr. Stork recommended that they, "use it as a tool."
Ironically, this is not the first time Nexercise has been recommended by a doctor. Last month, one doctor who uses Nexercise tweeted that he had just prescribed Nexercise to one of his patients. Additionally, some Nexercise users have used the calendar feature of the app to show their doctors their activity log while others have been broadcasting their weight loss.
In one of the most impactful examples, a diabetic Nexerciser recently shocked her doctor with the improvements in the numbers in her blood work. She, like the weight loss victors, attributed her improvements to Nexercise. Nexercise is starting to pick up momentum and make a positive difference in a lot of lives.
You can view the television segment at: http://www.thedoctorstv.com/videolib/init/7175
Background
Nexercise is motivation for people who want to lose weight and get in better shape. Through its free weight loss app, Nexercise motivates people to lose weight, get in better shape, and finally be consistent in their fitness behaviors.
The latest version of the Nexercise app is available now for iPhone in the Apple App Store at: http://itunes.apple.com/us/app/nexercise/id417348701 and for Android in Google Play at: https://play.google.com/store/apps/details?id=com.nexercise.client.android
The Doctors is an Emmy Award winning, syndicated medical based talk show. The Doctors is syndicated nationally. Please check your local listings.