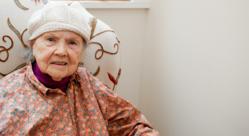 Understanding myths and aging bias as well as pursuing activities that enhance cognition and stopping harmful ones are essential for healthy and successful aging
San Francisco, CA (PRWEB) September 15, 2012
On Tuesday, September 18, The Blende Dental Group, a special needs dentistry group in San Francisco, will be holding an educational cocktail event on Alzheimer's and Oral Care from 5:30-7:00 p.m. at 390 Laurel Street, Suite 310 (cross street Sacramento), Presidio Heights in San Francisco. During the event, Dr. Blende will discuss how to optimize dental health for those who suffer from Alzheimer's and other senior health issues.
Increasing numbers of vulnerable older adults with complex medical conditions are suffering from oral health issues. However, providing the proper oral health care can be difficult for homebound older adults. In addition, many older adults suffering from Alzheimer's and similar conditions must live in a community setting where nurses and aides are often stretched to the limits to provide sufficient attention and care.
Mercedes Rose, Co-founder of Aging Consulting Services, is a Geriatric Case Manager based out of Menlo Park. Rose works closely with adults suffering from Alzheimer's and similar conditions. "We are dedicated to helping elders find community resources and be their advocate in navigating the health care system. Ninety percent of our clients are homebound. For this reason, it's essential to have a resource like The Blende Dental Group," Rose commented. "Not only are they house call dentists, but they are also experts in working with the special needs of an aging patient."
As a special care dentist in San Francisco, Dr. Blende focuses on treating senior and others with special needs. His presentation will cover the challenges of detecting oral health issues and the impact on this phase of life. Guest speakers include Dr. Susan Hyde, Dr. Jonathan Canick, Laura B. Anderson, MA and Terri Cable.
Dr. Susan Hyde, Interim Chair, Division of Oral Epidemiology and Dental Public Health and Associate Professor of Clinical Dentistry at UCSF School of Dentistry, will share insights into the effects of Alzheimer's in older adults and how this condition can affect oral health when proper care is not administered.
Also speaking is Dr. Jonathan Canick. Dr. Canick is a member of the departments of psychiatry and neurology at California Pacific Medical Center (CPMC) and an assistant clinical professor, University of California, San Francisco. He will share his perspective on what he calls "myths and bias regarding aging, as well as recommendations to enhance cognition, essential for healthy and successful aging."
Guest speaker, Laura B. Anderson, MA is a Family Care Specialist for The Alzheimer's Association She will address the definition of Alzheimer's disease and discuss key issues that are not well represented in the press.
Registered Dental Hygienist in Alternative Practice, Terri Cable, will be providing specific techniques and tools to address oral health issues of seniors with memory loss. As a mobile dental hygienist, Cable is licensed to care for special needs patients who are homebound.
Due to limited space, please RSVP: community(at)drblende(dot)com or (415) 563-4261. There will be wines, tea coolers, hors d'oeuvres and desserts crafted by community members at the event.
For more information about the Alzheimer's and Oral Care event, go to: http://events.r20.constantcontact.com/register/event?llr=avy5ubdab&oeidk=a07e68uu5ttffaa0037&oseq=
For more information about The Blende Dental Group's ability to individualize treatment for their patients call (415) 563-4261 or toll free at 1-800-575-3375 during normal business hours, or call 1-877-HOUSE-07 (1-877-468-7307) for dental emergencies 7 days a week, 24 hours a day.
The office of San Francisco special needs dentist, Dr. Blende, is located at 390 Laurel Street in Presidio Heights. Visit http://www.blendedentalgroup.com/ to make an appointment and experience The Blende Dental Group's full range of services. If you are active on social media, feel free to stay in touch with their educational campaigns and events via Facebook.
About The Blende Dental Group
The Blende Dental Group is the Home of the House Call Dentists. Focusing on special needs dentistry in San Francisco, they serve both general patients and individuals with special needs, including and those with phobias or disabilities (behavioral, cognitive, medical or physical challenges). This medical-dental group has over 40 years combined experience. They are able to address a diverse range of patients by individualizing treatment, either Awake (in-office), Asleep (under general anesthesia at one of eight Bay Area hospitals where they are on staff), or At Home (in the patient's home or community anywhere within a 60-mile radius of San Francisco). The Blende Dental Group has earned its reputation as a national leader in the treatment of patients with special needs by safely and successfully completing thousands of complex cases. Their vision is to remove barriers to receiving dental care. Their mission is changing lives one smile at a time: Awake, Asleep, or At Home.
The Blende Dental Group, specializing in sedation dentistry in San Francisco has been featured in USA Today Weekend, the San Francisco Chronicle, Exceptional Parent, the Alzheimer's Association newsletter and Ability magazine, among other publications. They have also been featured on ABC 7 (KGO) News with Dr. Dean Edell, and on NBC (KNTV) San Francisco Bay Area News.