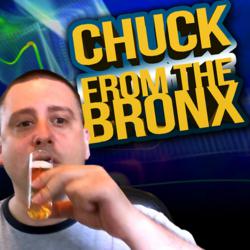 "What's up dare?"
(PRWEB) September 15, 2012
Chuck Saragossi is an online hit after he uploaded videos of himself doing bizarre feats, like eating a dog food sandwich or eating some of the hottest peppers in the world. Now he's asking his fans to give him more outrageous requests, but with a scary Halloween theme.
Fans can go to his YouTube Channel (or on his Facebook Page) at http://www.youtube.com/thebronx19740 and leave a comment suggesting the scariest food or other kind of Halloween challenge they can come up with.
Chuck performs all kinds of crazy challenges that are provided by people who leave their suggestions in the comments section of his YouTube videos. He makes a new video every week in which he stares straight into the camera, delivering on the challenges and spewing hilarious one liners as he goes.
Chuck doesn't just get scary for Halloween though. He scares people year round. Sometimes, despite his efforts, the food just won't stay down and Chuck, well, upchucks. That scared some of his fans so bad that they asked him to edit the puking out of his videos (which he did).
One of Chuck's most popular videos, that had to be edited, features him sitting in his own bathtub that he filled with ice. He's shivering violently because it's so cold. Then he eats a Scorpion Butch T pepper, one of the hottest peppers in the world. He starts to get very hot. As the heat gradually hits, sweat and tears pour from his face. "It's like purgatory in my mouth!" he says as he chugs a gallon of cold milk to try to tame the pain. By then his tongue, lips, and mouth are so numb he can barely speak.
This is normal fun for him. "If doing weird things is an art, I am making a masterpiece," he says, and his fans eat it up. "Forget America's Funniest Videos - Chuck is way funnier!" writes a fan.
Others agree. Chuck ate a huge spoonful of cinnamon with Jay Leno on the Tonight Show and has been featured twice on viral video site Right This Minute.
Chuck is available for appearances and interviews about his bizarre hobby of willingly causing himself suffering and pain for entertainment purposes.
Check out Chuck the Bronz on Facebook at http://www.facebook.com/ChuckFromtheBronx or on Twitter @ChuckBronx.