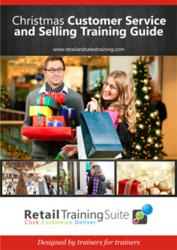 Smart retailers leave nothing to chance during the Christmas trading period. Quality staff training can be the difference between mediocre Christmas sales and bumper Christmas sales.
(PRWEB) September 20, 2012
Authentic Training, (PR Web), 20th September, 2012 - Christmas trading is a make or break time for retailers. A large percentage of a retailer's annual turnover is generated in just the few weeks leading up to Christmas. Retailers that trade well set themselves up for the year ahead. Those that trade poorly may not make it past February. Although Christmas is the busiest time of the year for retailers, it's also when they have their most inexperienced workforce. A lot rests on the shoulders of unskilled, unknowledgeable and poorly trained employees. There just isn't enough time to provide them with the same level of retail training that team members employed at other times of the year receive. Bring them on too soon and profit is impacted via higher wage costs. Bring them on too late and sales are impacted via poor product knowledge, customer service and selling skills.
Understanding this dilemma, the Authentic Training team developed a retail sales training program for Christmas staff. The package, in a 'done for you' format, is quick and easy to deliver and contains everything a retail manager or small business owner needs to prepare their staff and temporary employees for bumper Christmas sales.
"At a time when retail managers are time poor, but a lot is at stake, it's important they have all the tools they need to train their staff like induction plans, selling and customer service workbooks, sales action plans and coaching and feedback forms", says company founder Melissa Davies.
Smart retailers leave nothing to chance. They do everything they can to maximize sales during this narrow window of opportunity. Hiring inexperienced staff at the last minute and providing the sink or swim approach to training is a recipe for disaster. Retailers who want confident and capable Christmas selling teams should start planning their training now. A quality training program can be the difference between mediocre Christmas sales and bumper Christmas sales.
Authentic Training specializes in developing innovative retail and sales training packages that small business owners, managers and trainers can deliver themselves. Their vision is to provide a suite of tools that empower retail teams to achieve unprecedented levels of success and professionalism.
Further information:
Melissa Davies, Company Founder
Authentic Training
[http://www.retailandsalestraining.com