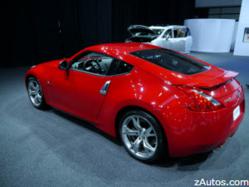 five cars under $50,000 that dash from 0-60 mph in less than five seconds
Irvine, Calif (PRWEB) September 17, 2012
Subaru Impreza WRX STi Sedan - 4.5 seconds
The Impreza WRX STi knows how to be a bargain performance car without looking or feeling like one. Speed and athleticism run through every inch of the sedan's body. High-performance tires, a bold rear spoiler, aggressive hood scoop, and fierce xenon headlights adorn the exterior of the souped-up Impreza.
Subaru's turbocharged Boxer engine provides an impressive 305 horsepower, allowing the car to dash from 0-60 mph in just 4.5 seconds. But this car is made for performance purists, as only a traditional six-speed manual is offered.
BMW 135i - 4.8 seconds
The BMW 135i coupe doesn't disappoint - it is as nimble and athletic as it looks. The 135i is wickedly fast, effortlessly zipping to 60 mph in 4.8 seconds.
Priced at $39,300, this luxury coupe provides a healthy 300 horsepower from a 3.0-liter twin turbo inline six-cylinder. Drivers will enjoy the car's sharp reflexes, smooth ride, and indulgent interior amenities.
Ford Mustang 5.0 GT - 4.7 seconds
Of its American muscle car competitors, the Ford Mustang GT arguably has the most speed and power for the money. A robust 412 horsepower emanates from the 5.0-liter V8, promising a 0-60 time of just 4.7 seconds. Buyers will also enjoy the commanding presence of the Mustang and the unmistakable rumbling of its V8 powerhouse.
Chrysler 300 SRT8 - 4.6 seconds
The 300 SRT8 proves that looks can deceive. While the SRT8's exterior resembles the traditional 300, except for a blackened grille and wheels, it boasts an upgraded 465 horsepower.
In the category of sport sedans, the Chrysler 300 SRT8 is a top choice and may be a viable less-expensive alternative to the Cadillac CTS-V. Nevertheless, the 300 SRT8 stands out in its own right, providing brawny and athletic performance that is commendable for a sedan of its size.
Nissan 370Z - 4.7 seconds
This sporty coupe delivers plenty of thrills on the roadway for as little as $33,120. Buyers looking to maximize power may want to opt for the performance-oriented Nissan 370Z NISMO model, which boosts horsepower from 332 to 350.
zAutos is a consumer car research website that offers a variety of tools to help shoppers find their next car.