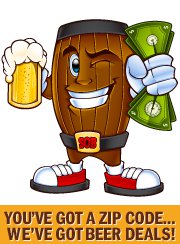 Texas is a state that loves its beer!
Houston, TX (PRWEB) September 17, 2012
SaveOnBrew is a valuable resource for thirsty beer lovers looking for a deal. One need only visit http://www.SaveOnBrew.com and enter a zip code for a list of local, updated beer prices. The search can be narrowed down by brand, retailer, beer type, and container. New brands and sellers are being added to the burgeoning site every single day. On-the-go beer buyers can use the site's mobile app for a clutter-free list of beer prices and maps to the nearest beer retailer. To gain added exposure, SaveOnBrew representatives have set up a tailgating tent at Reliant Stadium, home of the Houston Texans, where fans can get free beer swag all season long!
"Texas is a state that loves its beer," explains SaveOnBrew's Mark Davidson. "We decided to set up a tent to celebrate the fact that Reliant Stadium has the best beer deals in the NFL. Our nationwide study recently found that Texans fans pay just 28.5 cents per ounce – or $6 per 21 ounce beer -- at games."
He adds, "Nothing is cheaper than B.Y.O.B. and tailgating, but we have it pretty good here, compared to the more expensive markets – like the stadiums for the Indianapolis Colts and Washington Redskins where fans pay 58 cents per ounce -- almost $7 for a 12-ounce beer. Not only is it way more expensive, but that's many more trips to the bar!"
SaveOnBrew invites Texans fans to stop by their tailgate tent for FREE beer swag before any of the games. They've been known to stock everything from stickers and beer koozies to bottle openers and t-shirts. The site founders will be available to answer questions, take suggestions for the site, and discuss the best local watering holes.
Fans of SaveOnBrew that do not reside in Texas can still get their hands on some free beer swag by visiting http://www.Facebook.com/SaveOnBrew, clicking "Like" and messaging their address via email. Currently, the team is sending out sleek black SaveOnBrew bottle openers to all new fans.
Individuals who send interesting or funny photos of themselves with their SaveOnBrew beer swag will receive more goodies in the mail, site founders add. With over 25,500 fans, the team is rapidly increasing their reputation as the only beer price search engine online, a leading voice in beer culture, and a generous sponsor of swag-loving beer drinkers across America.
About SaveOnBrew.Com: Founded in 2010 to help thirsty beer drinkers across the United States find the lowest advertised prices for one of the world's most popular beverages.