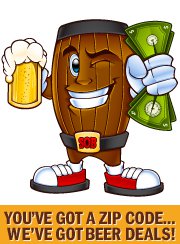 SaveOnBrew.com is the only reliable, updated beer price listing online.
Houston, TX (PRWEB) September 18, 2012
SaveOnBrew.com is the only reliable, updated beer price listing online. The beer price database is the result of countless collaborations between site owners and local beer retailers in every zip code across America. While it's a massive undertaking, there is always work to be done, says site founder Mark Davidson, and there are always new beers to be added. This month, they've begun adding Oktoberfest beer prices.
"We're from Houston, which isn't a huge market for German Oktoberfest partying," admits Davidson. "However, we've received a lot of feedback from our beer drinkers in markets like New York, where there are large German-American populations – and they are eager to score a deal on these microbrews!"
Added to the database this month are the following popular Oktoberfest beers:

Warsteiner Oktoberfest
Otter Creek Oktoberfest
Samuel Adams Oktoberfest
Great Lakes Oktoberfest
Spaten Oktoberfest
Flying Bison Bisonfest
Southern Tier Harvest Ale
ShockTop Oktoberfest
Shiner Oktoberfest
In addition to the Oktoberfest brews, pumpkin beer prices can also be found on the beer deal website. The following brands have pumpkin ales to try this autumn:
Dogfish Head
Brooklyn
Smuttynose
Shipyard
Wolavers
Blue Moon
Blue Point
Mark Davidson invites beer buyers and retailers to contact him with suggestions. "We're really only as good as the partnerships we've forged," Davidson admits. "Thanks to fruitful partnerships with Consumer's Beverages, A&P, Spirits Unlimited and a ton of other beer retailers, we're able to include Oktoberfest and pumpkin beer pricing in our database."
SaveOnBrew offers 100% FREE advertising for beer retailers. They need only contact the site owners with a listing of current beer prices or an online sale flyer. Additional advertising is also available along the banner and side-bar locations of SaveOnBrew.com at rock-bottom prices.
"Our site is really growing in leaps and bounds at this point," Davidson explains. "This month we've added hundreds of listings. So if there is a particular retailer you like or a beer brand you're looking for, please contact us and let us know."
In addition to posting beer prices, the SaveOnBrew site also features a beer blog, which provides consumers with pertinent industry news and suggestions on the best beers to try. The mobile version of the site includes a useful mapping tool to direct beer buyers to the nearest location selling cheap beer. More information can be obtained at http://www.SaveOnBrew.com.
About SaveOnBrew.Com: Founded in 2010 to help thirsty beer drinkers across the United States find the lowest advertised prices for one of the world's most popular beverages.