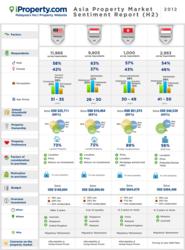 The survey report showed that property buyers and investors in Asia are adopting a wait-and-see approach to property investment. Their investment budgets in these countries were also not high, with majority not willing to purchase high end properties.
Kuala Lumpur (PRWEB) September 16, 2012
As Asia's most established and trusted property portal that reaches out to over 3.5 million consumers on a monthly basis, the iProperty Group leveraged on its market leading websites in Malaysia (iProperty.com.my), Hong Kong (GoHome.com.hk), Indonesia (Rumah123.com and rumahdanproperti.com) and Singapore (iProperty.com.sg) to gauge the opinions of property buyers and investors on the property market.
The iProperty.com Asia Property Market Sentiment Survey 2012 for H2 was carried out in July and attracted over 25,000 respondents. Majority of the survey respondents were between 26 and 50 years old and mainly held executive/managerial and professional level positions with an annual income above the national average.
Key Findings:

Majority of the respondents in each country had occupied their current premises for less than five years.
The survey reveals that many respondents aspire to upgrade their current living conditions once every five years on average.
Location was the highest rated factor for respondents in Malaysia, Indonesia and Singapore. Respondents in Hong Kong, however, rated price to be most important factor in determining the purchase of property.
Similar to the previous survey findings, location and price were still the two key factors that survey respondents viewed as important, ahead of political/economic climate, when deciding to purchase a property.
"In Malaysia, Singapore and Indonesia, location trumped price whereas respondents in Hong Kong viewed price to be the key factor. In the property industry, location and price are the most important factors that any property buyer and investor should look into before embarking on what is said to be their biggest investment," elaborated Shaun Di Gregorio, CEO of the iProperty Group.
Landed property is the top preference for respondents in Malaysia and Indonesia, while respondents in Hong Kong and Singapore opted for private condominiums/serviced apartments as their property of interest.
Affordability and rising house prices continue to remain the biggest concerns for survey respondents in all four markets.
Respondents from Singapore and Indonesia were more interested to invest in property overseas compared to respondents from Malaysia and Hong Kong.
It was not surprising that the survey findings revealed that 38% of Singaporeans surveyed were keen to invest in properties overseas, with a majority citing Malaysia (33%) and Australia (19%) as their top investment destination.
Respondents in Indonesia (32%) were the second highest group to express strong interest in overseas property with 82% intending to purchase in the next six to 12 months.
In Hong Kong, 15% of the respondents who were keen in investing overseas, 24% cited China as their preferred destination with 43% citing migration or retirement as the main reason of investment.
An Asian Overview
Malaysia Continues to be a Buyer Friendly Market
The Malaysian real estate is in tandem with the continued growth in the economy and despite expectations of a slowdown during the second half of the year; the Malaysia property market has seen a substantial increase in the volume of transactions in the residential property sector.
Just over half (52%) of the Malaysian respondents considered the current economic and political climate to be conducive to property investment and it was interesting to note that a whopping 51% of respondents believed that more should be done to protect property buyers.
Due to the loan-to-value ratio of 70%, consumers are likely to maintain a cautious approach in purchasing high end properties, with over 70% stating that their budget for property investment was under RM500,000.
Indonesia – An Emerging Market
The new regulations imposed by the Indonesian government to set a maximum loan-to-value ratio for housing loans at 70% to prevent a property bubble in unlikely to dampen demand.
The Indonesia property market is set to remain stable through the next few months due to the growing middle class population with increased purchasing power. 82% of survey respondents have the intention to buy property in the next 6-12 months, clearly reflecting their optimism on home ownership in the near future.
72% of those surveyed stated that their main motivation to purchase was to own their property, with 63% reflecting that they had a budget below IDR200 million.
Similar to the other countries, affordability and rising house prices was a major concern for respondents.
Hong Kong - Desires to Purchase Properties but Unconscious of Risk
Hong Kong respondents hold a positive view of residential property market prospects which increased by a percentage of 16 compared with the previous survey conducted at the beginning of the year. More than half of these respondents (58%) expect a stable or an acceptable rise in property prices in the second half of the year.
The survey findings indicate that Hong Kong people are optimistic about the Hong Kong property market for the second half of the year, even as prices of private properties hit new record highs in the second quarter of the year. Amidst today's soaring property prices, members of the post-80's generation desire to own properties yet are inadequately conscious about the possible negative elements of the property market.
Singapore – A Resilient Market
Following the introduction of the Additional Buyer's Stamp Duty (ABSD), introduced in December and the discontinuation of the Financial Investor Scheme in late April 2012, there has been a surge in foreign investment.
In a report published by the Business Times, it was stated that Malaysian investors comprised the largest percentage of foreign buyers in Q2 2012. Other major investors include Indonesians (4.7%), mainland Chinese (4.4%), and Indian nationals (3.0%).
The sentiments also showed that the Singapore real estate sector continues to remain resilient thanks to strong demand from a growing population and low borrowing rates.
Conclusion
Shedding light on these survey findings, Di Gregorio said, "The survey findings revealed interesting and valuable insights on how consumers from these four countries viewed the property market. It also gave a point of reference to gauge how consumers viewed the property market compared to the beginning of the year. While some findings remained the same, there were also some notable differences."
He added that the survey report showed that property buyers and investors in Malaysia, Indonesia, Hong Kong and Singapore are adopting a wait-and-see approach to property investment. Their investment budgets in all these countries were also not relatively high, with majority not willing to purchase high end properties.
"We advise all property buyers and investors to consider all factors including affordability and financial gap before purchasing as the market volatility and uncertain economic situation could incur investment hurdles," concluded Di Gregorio.
***The End***
About the iProperty Group
Listed on the Australian Securities Exchange, the iProperty Group (ASX:IPP) owns and operates Asia's No.1 network of property websites under the iProperty.com umbrella brand. Headquartered in Kuala Lumpur, Malaysia, the Company is focused on developing and operating leading property portals with other complementary offerings in Asian markets. It currently operates market leading property portals in Malaysia, Hong Kong, Macau, Indonesia and Singapore, and has investments in India and Philippines. With further expansion planned, the iProperty Group is continuously working to capitalize on its market-leading positions and the rapidly growing online property advertising market throughout the region. Along with 18 property websites across the region, the Group's portfolio also includes the first comprehensive regional commercial property website, CommercialAsia.com, as well as a regional property exhibition business and monthly property magazines in Malaysia and Indonesia.
iProperty Group Network of websites: