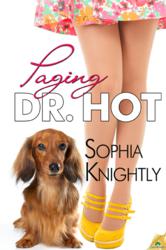 "He's tiny in stature, yet large in wit. Recently, Romeo was a hit with readers when he hosted the Paging Dr. Hot launch party and asked, 'How would you dress me for Halloweenie?' The reader suggestions that followed were hilarious!"
Miami, FL (PRWEB) September 17, 2012
Miami author Sophia Knightly's newest release from Samhain Publishing, Paging Dr. Hot (http://store.samhainpublishing.com/paging-dr-hot-p-7004.html), is catching readers' attention in a unique way. Romeo, the heroine's long-haired miniature dachshund, has a blog at the end of each chapter where he shares pithy observations about his owner's romantic entanglements. And now Romeo has gone viral, with a popular Facebook page (https://www.facebook.com/pages/Romeo/347033375376011) with over 765 likes so far.
"I love the way some dogs display humanlike qualities. We had a darling Golden Retriever named Taffy who used to interject sighs, groans, or happy yips into our conversation, letting us know she 'got it'. Her uncanny ability to communicate was amazing and a constant source of humor," said Knightly. Romeo, Francesca's cute little sidekick, is one opinionated dog, and he doesn't hold back. "He's tiny in stature, yet large in wit. Recently, Romeo was a hit with readers when he hosted the Paging Dr. Hot launch party and asked, 'How would you dress me for Halloweenie?' The reader suggestions that followed were hilarious!" Knightly added.
Knightly, an award-winning author of bestselling romance fiction, can be reached online via her website http://www.sophiaknightly.com/ or via email at sophiaknightly@gmail.com. Fans can reach Romeo at his Facebook fan page. (https://www.facebook.com/pages/Romeo/347033375376011)
Blurb for Paging Doctor Hot:
A love prescription so potent only the hottest doctor can fill it.
Miami TV reporter Francesca Lake is on a manhunt…or rather, a doctor hunt. Frankie wasn't always a hypochondriac. Her motto used to be "Fear is not an option", but everything changed with her mom's near-fatal heart attack. Now a day doesn't go by where she isn't worried about something. After a harrowing incident in the hospital ER, she has a life-altering epiphany. She needs to find a marriage-minded doctor ASAP—one who will calm her fears so she can get on with her life.
So begins a series of amorous escapades and startling revelations as she works her way through the list of eligibles: an outrageous Aussie sex therapist, a brilliant neurosurgeon (who's wired the wrong way), and a handsome Cuban cardiologist. None of them compares to hunky Dr. Harrison Taylor…but there's a problem. Much as Harrison's rugged physique, forest-green eyes and warm smile make her senses wobbly, she needs a people doctor, not the vet for her miniature dachshund Romeo. Besides, Harrison's propensity for crazy stunts would only make her worry more.
Frankie is trying to be sensible, but her heart and her outspoken dog are conspiring against her…
About Sophia Knightly
Best selling author Sophia Knightly loves to cook up hot romance and delicious humor in her feel-good stories. Whether it's a romantic suspense, romantic comedy, or chick lit, her books are fun and sexy contemporary romances. Last November, Sophia released her Tropical Heat Series e-books: Wild for You and Sold on You. During the first week, both books hit multiple Amazon bestseller lists and she has sold over 50,000 copies of the popular series to date. Sophia is a two-time Maggie award finalist and a Romancing the Script finalist for her screenplay adaptation of Sold on You, the book Romantic Times Magazine rated as a Top Pick. On June 12, Sophia's romantic comedy about two dueling chefs called Grill Me, Baby was released by Samhain Publishing. Her romantic comedy, Paging Dr. Hot, was released by Samhain Publishing on Sept. 11, 2012.