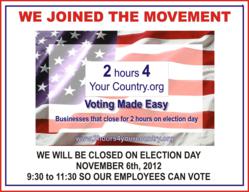 Regardless of your political affiliation, the November election could be the most important election ever
Port Saint Lucie, Florida (PRWEB) September 17, 2012
2 Hours 4 Your Country, a grassroots, non-partisan group has been launched to fight voter apathy and help boost voter turnout for the upcoming November 6 national and local elections. The group and associated movement was formed by Port Saint Lucie, Florida businessman Steve Hawk Levy to challenge business owners to close on Election Day for two hours so voting will be more accessible to their employees.
"If the employers and employees get behind this movement, the apathy will turn into interest because we know they will vote. Awareness, availability, knowledge and belief that their votes will make a difference is what we are trying to accomplish," said Levy. "It seems that everybody is just talking right now. This movement creates the opportunity and drive for everyone to do something. This will turn the relentless onslaught of political advertising and the 24 hour news cycle into something positive. People will pay attention," Levy added.
Regardless of your political affiliation, the November election could be the most important election ever. That is why 2 Hours 4 Your Country is challenging business owners, locally and nationwide, to give their employees two hours on Election Day to support our country through the power of the polls. "It's a simple concept every business can embrace to make a major difference for the future of our nation. We urge businesses to accept our challenge and get everyone out to vote," added Levy.
Founding members of 2 Hours 4 Your Country represent a balanced spectrum of political viewpoints and include Saint Lucie County, Florida Sheriff Ken Mascara, Port Saint Lucie City, Florida Councilman Jack Kelly, Fort Pierce, Florida City Commissioners Edward Becht, Twin Vee Catamarans founder Roger Dunshee of Fort Pierc,e Florida, media expert and public relations business owner Sam Yates of Jensen Beach, Florida, and Port Saint Lucie, Florida resident Steve "Hawk" Levy owner of St. Lucie Jewelry and Coins and founder of the grassroots movement.
"Support from business owners has been tremendous. Everyone who hears about 2 Hours 4 Your Country says it's a concept long overdue and they want to participate. We ask that businesses accept our challenge and in turn challenge at least two other businesses to give their employees time off to vote on Election Day. This can have powerful results as it becomes a national trend," said Levy.
2 Hours 4 Your Country has launched a website, http://www.2Hours4YourCountry.org, where businesses can learn more about the movement and sign up to show their patriotism and support. "In today's real world, both partners in a household work and it's difficult for them to go out to vote. In a small straw poll, we found that the primary reason for not voting was, 'I had to work'. As business owners, isn't it our duty to ensure easy access to voting? By closing your business doors for only two hours or allowing workers to take time off to vote, you are leading your staff in the right direction by making it easier for them to vote," added Levy. Business owners who choose to participate in the get out the vote movement can show their patriotism by listing their business on the website.
The 2 Hours 4 Your Country website also features free downloadable cards, decals, and other information business owners may use to show they are supporting the get out the vote movement. Businesses and individuals may also make donations to support the movement or purchase t-shirts and other items to help defray costs associated with what could become a national movement.
"We are certain this will catch the attention of business leaders nationwide. What better way to show your support for the United States of America than by exercising your right to vote. We encourage everyone to support this movement and ask that if you value our American voting heritage that you share news about the movement with as many people as possible to help make a difference on Election Day with record breaking voter turnout," concluded Levy.
For more information about how you may support this grass-roots get out the vote movement visit http://www.2Hours4YourCountry.org.