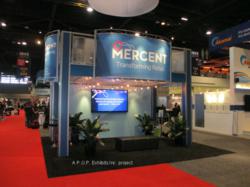 Denver, CO (PRWEB) September 19, 2012
P.O.P. Exhibits Inc. has completed the testing phase on an innovative new Double Deck Exhibit and is ready to begin worldwide sales and rentals. Named the "Double Deck Express", the system was designed and engineered with the exhibitor in mind and reduces costs. With the tear down of the two latest successful set-ups at Shop.org 2012 in Denver and a show in Philadelphia this week, we're proceeding full speed ahead on sales and rentals in cities across the nation and in venues around the world. Prior to these shows, the exhibit system has also been set up in Las Vegas and at McCormick Place in Chicago.
The new Two Story Exhibit is uniquely designed and engineered to cut costs. Deck platforms range in size from 9.3' x 9'3' to 26.5 x 16.11 and larger. For a basic 20 x 20, we've vastly reduced the average set up time from (4) guys x 2 days to (3) guys x 1 day. Rental prices have dropped 30-38%. Ownership costs are dramatically reduced in four ways. 1). Fewer crates and less weight means lower shipping expenses. 2). This also translates into lower drayage costs. 3). Labor (hourly wages) for Installation and dismantling is reduced least 30%. 4) Fewer crates means reduced storage expenses. The bottom line is that both exhibit rental prices and double deck selling prices have come done dramatically.
P.O.P. Exhibits Inc., founded in 1995, has been focused upon selling and renting multi-story deck systems for many years. Our primary rental venues are in Anaheim, Los Angeles, San Francisco and Las Vegas in the west, Chicago, Denver and Dallas in the mid-west, and Boston, D.C., Atlanta and Orlando in the east. We specialize in custom exhibit design but also offer an impressive array of portable and modular displays. With our work at video game shows like PAXEast and E-3, we are helping to lead the way when it comes to large screen projection and interactive media, connected workstations and staging. Clients include Alaska Air, Amazon.com, Absolut Vodka, AOL, British Airways, Motorola, Pepsi and NASA.