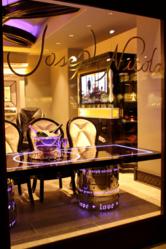 engage in life, love and happiness
Beverly Hills, California (PRWEB) September 18, 2012
The Joseph Nicola gallery in Beverly Hills recently unveiled its "Engaged" dining table,
The eye catching piece which has been stopping traffic on North Beverly all summer is the work of artist Joseph Elias
"My inspiration for the piece was to recognize the importance of an heirloom dining table, not just as a place to eat but as a place to engage and to be engaged, engaged in conversation, laughter, love and especially life". Says Joseph.
Stacks of giant shimmering silver and crystals rings which resemble engagement rings are perfectly placed under the rich Mahogany wood table top. the table top and rings glisten with hundreds on mini LED lights.
"Amazing life experiences happen around the table, from breaking bread to birthdays and from wedding announcements to anniversaries, so many special occasions are celebrated and shared with family and friends around the table. Just imagine, if the your table could tell stories of the stories told and the memories made, so many great memories, from first dates to first loves and the table was the center for all of them". explains Joseph.
The Joseph Nicole gallery at the Montage Beverly Hills. The gallery located at 216 North Beverly Drive represents a bold approach to design, furniture and fashion that redefines luxury.
Joseph Nicola is well versed in all levels of interior design and offers a wide range of designs that are custom tailored for each client while maintaining a focus on providing a luxurious lifestyle experience and heirloom quality. Joseph Nicola creates one-of-a-kind heirloom pieces as works of art to be collected, admired and appreciated, now and for generations to come.
For more information or to schedule an interview contact Jessica Schroeder 847-844-9500