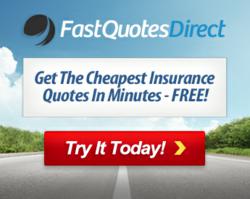 Portland, OR (PRWEB) September 15, 2012
Providing consumers a fast and easy way to find quotes direct from the top insurance companies, FastQuotesDirect.com aims to help visitors find the best savings possible with quality insurance providers in their area.
The cost to operate a vehicle across the US is becoming all too expensive for many Americans to maintain. Monthly expenses really start to add up so it's essential to take control of costs where ever consumers can.
Saving on insurance seems like all too much of a task for many because for the most part consumers just don't know where to start. In a highly competitive market though, it's one of the main areas where people can save big in the long run without having to make drastic changes to their lifestyle by cutting costs in their daily routine.
Finding a deal on insurance doesn't mean sacrificing the quality of coverage from an insurance provider nor should that ever be the logic. It's important to know that the right services are going to be available when they're needed.
FastQuotesDirect.com helps consumers find possible savings only with quality, pre-approved insurance companies so the consumer can keep in mind that the results found on their site are with providers they can trust.
How the savings are found is through providing a fast and easy way to compare quotes with companies that may offer different discounts or special savings catered to the drivers experience and record. In a competitive market it's fairly easy to find great deals as long as people know where to start. FastQuotesDirect.com aims to be that starting point.
By simply entering in their postal code the website will search through the database and return the top insurance providers in the given area. This quick first step is an anonymous process that is completely free and visitors are not obligated to sign up with any of the insurance companies listed.
With such a simple process, on average most visitors to the site compare at least 3 different companies as many of the providers will offer different discounts to encourage the consumer to sign up with them.
Finally the search for a new insurance provider is not only fast and easy but puts the consumer in control with a website that allows them to choose from a list of providers that compete for their business. No sales people to pressure in the decision and it can be done at anytime from the comfort of their own home.
To try the site today please visit: FastQuotesDirect.com