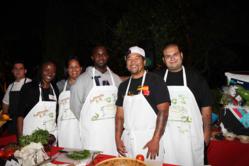 Los Angeles, CA (PRWEB) September 17, 2012
United Friends of the Children has partnered with Los Angeles' most celebrated restaurants and chefs to present the 4th Annual Cultivate L.A. on October 13, 2012 at a historic private Bel Air estate. Guests will savor the food from over 40 restaurants of local chefs like Suzanne Goin of Tavern, AOC and Lucques, Susan Feniger of Street and Border Grill, Jeffrey Cerciello of Farmshop, Joachim Splichal of Patina, Brendan Collins of Waterloo & City, and David Lentz of Hungry Cat.
They will be joined by other celebrated LA restaurants, local breweries, artisanal food producers and esteemed California vintners including Moraga Vineyards, Margerum, Cent 'Anni, ZD Wines, Frank Family Vineyards Silver Oak, ZD Wines and JUSTIN Vineyards & Winery, and one of the world's most precious single malt whiskeys, The Macallan. Treats from the Best Desserts in L.A. table will feature Sprinkles, Magnolia, Duff's Cakemix, Buttercake Bakery and Vanilla Bake Shop. VIP ticket purchasers will enjoy a reception including a private art tour of the estate and a special champagne and Petrossian caviar tasting.
Proceeds from the event support United Friends of the Children; "UFC's mission is to expand opportunities for LA's foster youth —help them find jobs, rent their own apartment, attend and graduate from college, and to have meaningful relationships with others." adds Polly Williams, President of UFC. "Foster youth need the chance to build a strong sense of self that makes a successful adulthood possible."
"I was fostered by my grandparents, "Syb & Harry", at the age of 11 when my parents divorced, so I thoroughly appreciate the importance of the work UFC does. Without my grandparents I would never have gained the strength to achieve any of my goals. Cultivate LA is so very close to my heart and I will always support it 110%." said Brendan Collins, Executive Chef and Proprietor at Waterloo & City.
Susan Feniger of Street and the Border Grill restaurants will be signing copies of her new just released cookbook, Susan Feniger's STREET FOOD. Diane Worthington, author and expert on California and contemporary American cuisine, will also be on-hand with her latest cookbook. Christine Moore of Little Flower Cafe, will be signing her book Little Flower: Recipes from the Cafe and sharing some surprise treats. Alie & Georgia, hosts of the Cooking Channel's Classy Ladies will join us to mix up some cocktails and a little fun!
Admission to the event starts at $175, with ticket packages starting at $500 including raffle tickets for a chance to win an all inclusive family vacation to the exclusive year-round resort, Martis Camp in North Lake Tahoe. Cultivate LA features an exclusively large format wine auction offering rare and collectible bottles, as well as special wine trips to Santa Barbara, Napa, Sonoma and Paso Robles.
Kayne Anderson Capital Advisors Foundation serves as the Presenting Platinum Sponsor for this year's event with their generous donation to support United Friends of the Children's housing and education programs. Wells Fargo Foundation is this year's Gold Sponsor. They are joined by David and Marianna Fisher, Wendy and Barry Meyer, Carol and Frank Biondi, HH and Gertrude Klein, Mattel Foundation, The Stolaroff Foundation and many others in sponsoring the event.
The location of the event is provided upon RSVP, general admission begins at 6:30pm. For more information about tickets to the Cultivate LA event and United Friends of the Children or to purchase tickets visit UnitedFriends.org/cultivatela or call 213-580-1850.
ABOUT UNITED FRIENDS OF THE CHILDREN
United Friends of the Children is a non-profit organization dedicated to bettering the lives of foster children and to supporting former foster youth in their journey to become successful, independent adults. Through our programs, advocacy efforts, and direct involvement with youth, UFC seeks to be a catalyst for change.
ABOUT KAYNE ANDERSON CAPITAL ADVISORS FOUNDATION
Kayne Anderson Capital Advisors Foundation was formed by Kayne Anderson Capital Advisors, L.P. to support charitable organizations with the goal of providing opportunities for all individuals to lead productive and meaningful lives. Kayne Anderson Capital Advisors, L.P. is a leading alternative investment management firm with over 25 years of successful experience investing in cash flow producing investments in the energy, growth capital, real estate and credit sectors. Headquartered in Los Angeles, with offices in Houston, New York, Chicago, and Denver, Kayne Anderson Capital Advisors, L.P. has over $16 billion in assets under management. Visit http://www.kaynecapital.com for more information.
###
CONTACT: UNITED FRIENDS OF THE CHILDREN
Catherine Atack, Director of Development
213.580.1825
Web site: http://www.UnitedFriends.org
Facebook: http://www.facebook.com/ufcfans
Twitter: http://twitter.com/unitedfriends