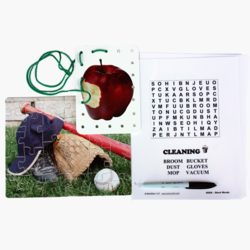 Residents with dementia need to continue on with the activities and routines of daily life, despite their cognitive limitations
Minneapolis, MN (PRWEB) September 18, 2012
According to the Alzheimer's Association, over 50% of residents living in nursing homes and assisted living facilities have some form of dementia or cognitive impairment (Dementia Care Practice Recommendations for Assisted Living Residences and Nursing Homes, 2007). Person-directed dementia care, the modern care approach in facilities, includes fostering engagement of residents in meaningful activities. MindStart offers dementia activities, helping to support an environment that is rich with opportunity to keep people with dementia engaged.
Experts of best-practice dementia care in long-term care facilities, emphasize the need to help residents with dementia to continue on with the activities and routines of daily life, despite their cognitive limitations (Person-Directed Dementia Care Assessment Tool, State of Wisconsin Department of Health and Family Services, 2006). This includes having all staff of the facility trained and directed to engage with residents in activities on a daily basis and to also have needed supplies readily available. Likewise, family members are encouraged to do things together with their loved ones and have activity items they can use.
Recognizing the challenges of nursing homes and assisted living facilities to provide dementia care activities for clients at varying stages of dementia, MindStart designed adapted hobby-style items, such as games and large piece puzzles, specifically for individuals with Alzheimer's or other forms of dementia. Features of the Alzheimer activities include durable and re-usable materials; directions for use at various stages of dementia; and portable, easy to use products. MindStart activities are cost-effective and efficient choices for facility person-directed dementia care.
In order to provide long-term care facilities with the best value for dementia care activity products, MindStart now offers quantity discounts on two of their most relevant and effective products for this setting: This Is My Life Life Story book and MindStart Visiting Kit. The Life Story book by MindStart honors the life of the person with dementia by outlining the person's history through words and photos. The Visiting Kit is an easy to use, portable kit with an assortment of activities that are adaptable for various stages of dementia, such as puzzles and word searches. Both are ideal tools for caregivers and family to use to easily engage individuals with dementia.
The quantity discounts allow facilities to put a Life Story book book and/or Visiting Kit into place for each client with dementia that they serve. MindStart has worked with health care organizations in Minnesota, Wisconsin, and Kentucky and is excited to extend their reach further. Inquiries can be directed to monica(at)mind-start(dot)com.
MindStart is a small, family owned business, started by an occupational therapist to provide activities for people with Alzheimer's disease or other dementias, while providing support and education for caregivers. MindStart works with dementia care experts and USA companies to design and manufacture adapted, yet dignified, activity products that are based on common hobbies and themes of everyday life and that provide cognitive stimulation for every stage of the dementia disease process.