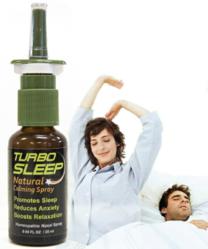 Turbo Sleep is the first nasal spray for sleep, but it can also be used for calming nerves and reducing anxiety.
Clifton Park, NY (PRWEB) September 16, 2012
GSC Products has launched the world's first nasal spray for sleep. Turbo Sleep uses proven herbal extracts that promote relaxation and calmness. By delivering active ingredients through the nose, the formula bypasses the body's organs and enters directly into the central nervous system - delivering better faster results than pills and drinks.
GSC Products is already recognized as a top innovator with Turbo Snort, the world's first caffeine energy nasal spray, and Turbo Sleep is another first of its kind in the sleep aid category.
"Turbo Sleep is the first nasal spray for sleep, but it's not just a sleep aid. It can also be used for calming nervousness and reducing anxiety. A couple squirts help promote relaxation without making you tired. Four or five squirts before bed will help you sleep through the night without the side effects associated with sleep medications. It also helps reduce snoring thanks to the aromatic essential oils", says Wayne Perry, CEO of GSC Products.
Turbo Sleep is not designed to artificially induce sleep like sleeping pills. Instead this all natural formula boosts the brain's own production of chemicals that promote calmness and relaxation thanks to four key ingredients: Valerian Root, Kava Kava, Chamomile and Lavender. When delivered with a nasal spray, these herbal extracts produce an effective mild sedative.
Turbo Sleep is expected to hit several thousand stores by the end of this year thanks to a recent distribution deal with a major drug chain.
About GSC Products, LLC:
Founded in 2009, GSC is known for its unique natural health and beauty brands including Greensations, ThermaSkin ThermaScalp, Acne Killer, Venomous, Turbo Snort and Fresh Beauty Market. GSC is a privately held corporation with facilities in Clifton Park and Albany, NY. More information is available at http://www.Greensations.com.